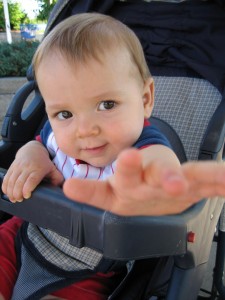 Strollers are designed to be safe. However under certain circumstances manufacturers fail to make these properly safely. When the manufacturer
defectively designs the product which causes injury
to the infant or user of the product they are liable. Often times manufacturers are aware of the defect, but fail to inform or recall the product. This happened with McClaren strollers, when the manufacturer failed to recall a particular model; even-though it knew about the defective condition. As a result of the manufacturers negligence over 10 infant children suffered traumatic finger
amputations
. If your child was injured by the use of a defective stroller contact a stroller defect attorney today. It is important to file your case promptly.
Stroller Defect Liability
Strollers can be defective if; (1) there is a inherent design defect present; or (2) a manufacturers defect exist. Design defects are those that make the product defective by design. Examples include folding mechanisms, stroller wheels and other issues which make the design defective. When a product is defectively designed, the injured parties have recourse against all commercial sellers of the product. This includes resellers and manufacturers. Design defects make all models of the product in question defective. When a product is defective by design is refers to a actual design issue. For example if the stroller could have been designed more efficiently, so as to avoid injury, then it will be considered a valid product design defect. Manufacturer defects are defects which occur at the time of manufacturing. This can apply to a particular unit or the entire group of products manufactured. When a product has a manufacturers defect, it refers to some inadequacy in the manufacturing process that makes the product defective. The use of sub-grade parts or improper manufacturing techniques can all make the product defective. If your child has been injured as a result of what you believe is a defective stroller, contact a stroller defect attorney in Los Angeles for help with your claim. You may be entitled to damages for your injuries.
Common Baby Carriage Injuries
Common injuries stemming from a defective stroller can be minor or serious. Here are a list of some the most common stroller injuries.
Soft tissue bruising.
Minor to severe head injuries.
Traumatic, hand, finger or foot amputations.
Broken wrist.
Sprained or broken ankle.
Facial lacerations.
Traumatic eye injuries.
Emotional trauma.
Back or spine injuries.
Broken nose.
Since children who are required to be placed in a stroller are generally of a young age, they are more likely to suffer serious injuries. For instance in the McClaren stroller mentioned earlier, the most common injury suffered was finger amputation. With that particular defect the manufacturer in-fact knew of the defective condition, yet they failed to either recall or take steps to correct it.
Who is at fault?
Liability as mentioned earlier is generally placed on the manufacturer of the product. However, when filing a lawsuit for defective products, you can hold all commercial sellers of the product liable. Manufacturer's are held responsible when they put a defective product in the stream of commerce, which ends up causing injuries. Although, the user can be held liable for their injuries, when they fail to properly use the product or fail to follow care instructions. When the manufacturer puts into production and distribution a defective product and injuries occur, they will be responsible. Speak to a qualified product defect lawyer to discuss your case. If you have been injured, you may be entitled to a cash settlement for your damages.
What to do after a stroller injury?
It is important to build your case. Keep all files, receipts, communications and names. This is critical in establishing your case. Often times you may fail to keep important information regarding your case which will eventually limit your ability to recover. If your child has been injured keep all medical records, witness information and other valuable evidence. This is important in proving liability. Seek proper medical attention for your child's injuries. Because of their age, they may be able to seek full recovery. Thus it is important to seek immediate medical attention. Select the correct attorney. Make sure to work with an
attorney
who deals with product liability cases. Our firm deals with a variety of product liability type cases. We have skilled experts who will identify the defective issue and help us build the case. If you child has been injured while using a stroller contact our firm to see whether you have a case.