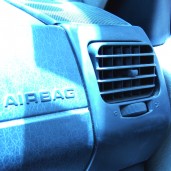 When airbags were first introduced to the market over 20 years ago, it was a revolution in automobile safety. It offered potential to shield both drivers and passengers from even the most severe forms of
car accidents
. Even more compelling,
airbags
are deployed not only in the front of the vehicle, but in the sides, doors and even seats. Even the most economical cars come equipped with several different forms of airbags. However, even decades after the technology was first introduced, we have seen that airbags are far from perfect. For example:
In 2011, Chrysler recalled more than 367,000 2008 Dodge and Chrysler minivans because the air bags would go off unexpectedly
Recently, Kia recalled 145,755 2006-'08 Kia Optimas and 2007-'08 Kia Rondos to fix defective airbags
Air bag often times has proven to be a source of danger for many passengers. Air bag defects can come in many different forms including:
Failure to deploy – This is when the airbag simply fails to deploy as a result of a design or manufacturing defect. This can result in some of the most severe injuries
Late deployment- Late deployment often results in more serious injuries than a failure to deploy, as the passenger suffers first from the failure to deploy. This includes crashes with the windshield and steering wheel. Additionally, there is a secondary impact as the airbag deploys.
Overpowered deployment –Most common in earlier model vehicles, overpowered deployment has caused serious injuries and even fatalities where no injury would have otherwise occurred.
Inadvertent Deployment – Air bags sometimes explode from no or even minor accidents resulting in injuries.
Shrapnel Shooting Out of an Airbag – Airbags act as a weapon or gun when shrapnel is shot out of them
If an airbag defect has been a cause of your injuries, please call a Los Angeles
Personal Injury Attorney
at Downtown L.A. Law at
(855) 339-8879
to schedule a free consultation today.