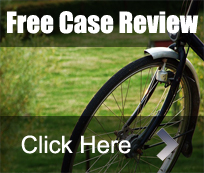 Bicycle accidents can be serious. When a bicyclist is involved in an accident they can suffer a number of life altering injuries. Generally these accidents are caused from negligent conduct or actions of the surrounding vehicles. Instances where the driver of a parked car negligently opens the car door without looking to make sure it is safe. Or when the bicyclist is involved in a collision with a person operating a moving vehicle, these injuries can be devastating. Our Law Firm Can Help: Downtown L.A. Law Group has advised those injured to seek medical help and legal representation. These injuries can be more serious then they show. Since bike riders are not offered the security of a vehicle they are often times fully exposed. This exposure can substantially increase the likelihood of serious injuries. Do not attempt to settle these matters without proper legal representation.
Open Car Door Accidents – and Bike Lane Collisions
California vehicle Section 22517 states in relevant part that a car door cannot remain open for a period longer then what is necessary to load and unload passengers. Additionally, it prohibits opening a vehicle door to oncoming traffic unless it is safe to do so without "interfering with the movement of such traffic". Often time's drivers fail to respect or adhere to such conditions. Car doors are negligently opened by distracted parties on their cell phones without ascertaining whether it is safe to do so or not. Other times drivers leave open the car door for a prolonged period of time. They leave the door open without care of the potential consequences. As a result of this negligent conduct injuries can occur. Bike riders may not have sufficient time to react or maneuver around the open door. This causes them to suffer injuries to almost all of their body. Injuries which can be both painful and serious with long term consequences to the victim. If you have been hurt contact a personal injury attorney Los Angeles for a free case evaluation. You may be entitled to compensation for your injuries.
Liability for Open Vehicle Door Accidents Involving Bicycles Mopeds Scooters and Motorbikes
Liability for these types of accident can depend on a number of factors. Generally it will depend on whether the owner or operator of the vehicle at the time was negligent. Did they act in a reasonable manner? This can take into consideration the time of day, how long the car door was left open, was there oncoming traffic as well as other variables. Other considerations can include whether the driver was distracted at the time of the incident. Drivers can leave the car door open while they are on their cell-phone or some other distraction. When a driver is distracted and fails to adhere to certain road regulations then they will be held liable for the injuries they cause. While there are other factors to consider, it is important to keep in mind all of the facts occurring after your accident. We recommend keeping a detailed list of all the witness names, driver's license information of the person operating the vehicle, number of passengers, names of the passengers, vehicle license plate as well as the make and or model. Many times after an accident the perception as to how the accident took place can change. Human memory can distort facts and it is important to write down what you remember after the accident.
Helmet Requirement – California Bicycle Ridership Laws
Helmets are necessary to prevent serious head injuries involving bicycles. While they are not required in California they can be used as a defense with regards to minimizing your damage rewards. It is important to always wear a helmet, but not wearing one does not prevent you from bringing a cause of action for your damages. It is important to know your rights, speak with an attorney in your area following your accident. Often times certain statements should not be made following an accident. Downtown L.A. Group has been advising clients involved in bicycle accidents to seek medical attention after their accidents. Just because you do not show immediate signs of injury, medical exams should not be ignored.
Paying for Medical Expenses Out of Pocket – We Understand How Difficult It Can be – We Can Help
If you have been injured it is possible to have your medical expenses deferred through a process known as a medical lien. This allows for your medical bills to be deferred until a settlement is reached. At that point the money derived from a settlement is used towards paying for such costs. Before considering this method it is important to evaluate the degree of your injuries and the potential value of your claim. Certain types of accidents do not warrant this type of agreement and you should consult with your attorney beforehand.
Selecting the Rights Legal Representation:
The Downtown LA Law group has the experience and expertise to handle complicated cases involving bicycle and motorcycle accidents. Our team of investigators will act quickly to attain and preserve important evidence regarding you injuries so that your rights are protected.  Our priority is to provide you with expert legal representation so that you can receive the maximum compensation for you injuries. Types of Compensation available for your personal injury case against a government entity may include:
Medical Bills
Futures Medical Bills and physical therapy costs
Lost Wages
Loss of Future earning
Pain and Suffering
Emotional Distress
How to Get in Touch With Us:  If you like to speak with a California injury Attorney and discuss your claim contact us at (855) 385-2529. All our Initial Consultations are completely FREE OF CHARGE for our clients. For More Information: