Health Club Injury Attorneys | Fitness Center & Gym Accident Lawyers
---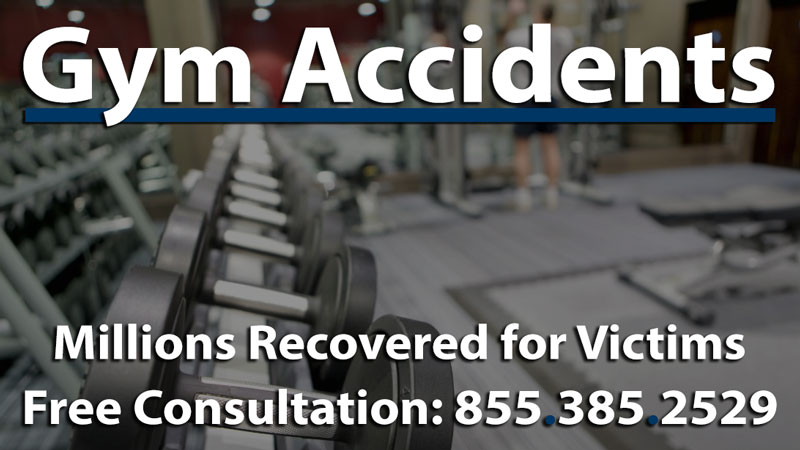 While health clubs, gyms and fitness centers, are a destination for fitness enthusiasts they are also often times a cause of serious and permanent injuries. In many instances, serious injuries are caused by gym owner and operator negligence.  If you have suffered injuries while in a Fitness Center, or Gym, contact our Fitness Center Accident Lawyers to schedule a free consultation.
Health Club Safety: What you need to know
Health clubs like any other establishment owe their patrons a reasonable duty of care to make sure the property is free from not only defective conditions but also dangerous conditions on the property. Health club owners are required not only to inspect for such issues but to also warn customers. Failure to provide adequate warnings hold health club owners liable for injuries. Other liability can be due improper space between equipment, failure to inspect equipment or unsanitary conditions at the facility.
– Hotel Sexual Assault
Gym Accidents in Apartment Buildings and Apartment Complexes Gym Accidents Can Happen to People Who Live in the Apartment and to a Guest at the Apartment
People who live in apartment buildings or who are the guest of someone living in an apartment complex where there are gym facilities are open to them for free, are certainly living their best life. The gym facilities offer a way to exercise and keep in shape, in a convenient location in the apartment building. But there are times that the gym in an apartment can be a dangerous place indeed.
Gym Accident Injuries Occur in Condominium Gyms Workout Facilities and in Steam Rooms and Hot Tubs
Accidents can occur in a gym and there can be serious injuries that can be accrued by working out in a gym. If you have been in a steam room or a hot tub, you may also have sustained a serious injury as well. The injuries in a steam room or a hot tub can include:
Slipping on wet tiles or pavement
Tripping and falling in puddles on the floor
Hitting your head on the deck of the hot tub or in the steam room after a tumble
Breaking or fracturing a limb
Air-BNB Gym and Steam Room Accidents and Serious Injuries
If you have been traveling to an Air-BNB and used a steam room, you may be in for more than you bargained for at that point. You may have an accident with the gym facility and also in the steam room itself as well. You can expect that you might experience injuries with:
Equipment defective and not working as designed to be used
Strained leg or arm
Feeling a "pop" in a muscle during use
Assault by another gym user
Body crushed beneath equipment
Workplace and Office Accessible Turn-Key Gyms
The chance of being injured in a workplace or office gym is very high. Many people use office and workplace gyms, and they are often not as well maintained as they could be. Since they are not regularly attended to and are often stand-alone units, these gyms may have no one maintaining the equipment over a long stretch of time. If the equipment has gears or motors, there is often no one around to finely tune the equipment and keep it in good working order. Injuries that are typical for workplace and office gyms include:
Poisoning or allergy from foreign metal in the handle of the gym equipment (break out in hives)
Unknown injuries caused by overuse of muscles from badly placed equipment
Foreign bodies in the cavity of a gym equipment (rust from a dumbbell goes into your eye)
Kicked by someone working out in the gym during a routine session
Snapped cables
Equipment falling apart
Equipment becoming dislodged
Private School Gyms and Public School Gyms
Private school and public school gyms also have dangerous conditions inside of those gyms. They are often worked out on a revolving basis by many students, and they are full of mold, mildew and moss that can slime up the walls and permeate the flooring. For this reason, if these gyms are not meticulously maintained, it will be difficult to not be injured in these venues. In some cases, a private or public school gym can have upwards of several hundred people use the gym on any given day. This is to accommodate the numbers of school children who will have their gym period or gym class on a certain day.
It will not be unusual for a gym in these situations to have nearly 1,000 students or more in that gym on any given timeframe during a week day during a school week. For this reason, the sheer overuse of the gym makes them prime to not be kept up, cleaned and maintained to ensure the safety of all users.
Hotel and Resort Gyms and Injuries
It is common to have an accident at a hotel or resort gym and become injured in the gym facility. There are many different types of injuries that can occur using a hotel or resort gym, including:
Getting assaulted by a predator who is hanging out looking for victims in a dark gym or locker room
Tripping and falling over equipment not being used at the gym
Falling in the changing rooms
Slipping in a shower
Falling over towels left on the floor
Landing awkwardly and twisting an ankle
Twisting and becoming injured during a workout
Getting a body part caught in the equipment
COMMON CAUSES OF HEALTH CLUB INJURIES
When you go to the gym to exercise, the gym has a duty to ensure that all of the equipment functions properly. Below are the most common ways that you can get injured at the gym:
Equipment Malfunctions: When you lift weights at the gym using equipment, there are pulleys, levers, fulcrums, and other simple machines that contribute to the overall function of the equipment. If any parts of the machine are worn out or broken, they can lead to serious injury of the user. For example, if the axle on which the pulley spins breaks, it the weights will fall suddenly which can cause the customer's muscles and bones to jerk violently and cause serious damage. If you suffered an injury because the equipment malfunctioned, then you have the right to sue the gym for proper compensation.
Defective Gym Equipment: Gym equipment needs to be in proper condition in order to not cause any damage to customers who use it. It must not cause any harm to the user. For example, if there is equipment that has a bacterial infection, and the gym ignores it and allows countless customers to get infected, those users can sue the gym for negligence to their own defective equipment.
Sexual Assault: People go to the gym to get healthier, not to become victims of sexual harassment and assault. Unfortunately, there are some people who will make unwanted sexual advances to unsuspecting customers. Whether the attack come from trainers, staff, or other attendees of the gym, the gym must maintain a safe workout environment for all customers. If you were sexually assaulted or harassed in a gym, you can file a lawsuit to receive compensation for your damages.
Assault and Battery: Hormones and blood pressures run high at gyms. And when emotion gets in the way, it can lead to physical altercations which can lead to serious injury. The gym must maintain a safe space for their customers. While you can sue the perpetrator, if the gym did not make reasonable policies to prevent fights, you may also have the option to file a lawsuit against the gym.
Slip and Fall Accidents: Health clubs must post WARNING signs when the floor is wet so that customers don't slip, fall, and get injured. If you suffered a slip and fall injury in the premise of a gym, whether it be inside or in the parking lot, you can file a lawsuit to receive compensation for your injuries.
The Ultimate Guide to Slip & Fall Accidents
– Slip and Fall accidents
– Nerve Damage from Slip and Fall Accident
– Legal Questions Regarding a Slip and Fall Claim
– Supermarket Slip and Fall Injury Attorney
– Hospital Slip and Fall Accident
– Brain Injury Caused by Slip and Fall Accidents
– Top 10 Causes of Slip and Fall Accidents
– Due to Leaking Air Conditioner
– Wedding Slip and Fall Accidents
– Defective sidewalk accident
– Miscarriage Caused by Slip and Fall Accidents
– Bowling Alley Injuries
– Slip and Fall FAQ
– Average Slip and Fall Lawsuit Settlement
– Workplace Slip and Fall Accident Attorney
– Slip and Fall Accidents on Sidewalks
– Slip and Fall Accidents in Restaurants
– Who Is Responsible For Sidewalk Maintenance
$1.96 Million
Pedestrian Accident
$825,000
Slip and Fall Injury
$500,000
Premises Liability
Health Club Waivers and Right to File a Lawsuit for Injuries
Many health clubs have mandatory waivers which are required to be signed before membership becomes effective or before your membership can become active. Although such waivers can reduce the liability they are not absolute. Such waivers do not work to absolve the health club owner of all liability. Waivers are often times found to be invalid or improper when dealing with limiting liability. Courts can at their discretion invalidate waivers depending on the language and type of harm suffered by the harmed party. It is important to consult with the
athletic club injury lawyers
at Downtown LA Law to determine if you have a case.
– Security Guard Sexual Assault
Learn more about your options for compensation by calling (213) 389-3765.
Generally, such harm is brought under a negligence theory of recovery. In order to bring a cause of action under negligence, it is required to show that the health club owed a duty to the harmed party, that they breached that duty, the harm suffered was caused by the health club owner and that the party suffered damages. In order to determine whether your injuries are recoverable, we recommend you contact the health club injury attorneys at Downtown LA Law for a free case evaluation.
Common Health Club Injuries
Health club injuries are numerous and can include:
Broken nose
Fractured bones
Treadmill injuries
Broken arm
Injury due to improperly securing weights
Weight related injuries
Resistance band snapping or breaking
Wrist injuries
Toe injuries
Finger Injuries
Spinal Cord Injury
Chest trauma – resulting in Pulmonary injury to the lungs and sternal fractures
List of California Area Health Clubs
La Fitness
Equinox
Sports Club
Bally's Total Fitness
Spectrum Health Club
360 Health Club
24 Hour Fitness
– My Uber Driver Sexually Assaulted Me, What Should I Do?
Lawsuit for Skin infections from Gyms/health clubs/fitness centers
Skin infections are common at athletic clubs and usually spread instantly due to unsanitary conditions particularly in densely moist areas including locker rooms, shower rooms, steam rooms, saunas and swimming pool facilities. Such infections can also occur after contact with unclean equipment. Gyms are required to keep such areas clean to avoid not only the spread of infection, but also as a preventative measure. Skin infections from athletic clubs, gyms or health clubs are both unhealthy and can cause mild to serious injuries. Such injuries can cause loss of earnings, work, discomfort, pain and suffering and other harm. Injuries attributed to skin infections can include minor discoloration to serious. Of the types of skin infections which are related to gym use the five most prevalent include:
Acne Mechanica;
Blisters;
Turf Burns/Road Rash;
Fungus Athlete's Foot;
Indoor Training.
If you have any of the above conditions and you feel that they were caused by physical contact with unsanitary equipment at your health club, athletic club or gym then we recommend you contact the athletic club
injury attorneys
at Downtown LA Law for a free case evaluation.
Complete a Free Case Evaluation form or call (855) 339-8879 today.
Time Period to File a Lawsuit
: The statute of limitations for filing a lawsuit is based on the jurisdiction where the accident took place. For example the statute of limitations in the State of California is two years form the date the injury. For a list of statute of limitations for all jurisdictions in the United States see
here
.
Amusement Park Sexual Assault
Our Premises Liability Lawyers Can Help
The gym injury attorneys at Downtown LA Law can offer you a free case evaluation and determine what the best road of recovery can be. Call our toll free number today at 855-DTLALAW to see if you are entitled to recovery. Our knowledgeable staff can offer you the proper advice to determine the best road to recovery. Our consultation is absolutely free and if we work on a contingency fee basis. No recovery no fee, Se Habla Espanol!
Over $500 Million Recovered
for Our Clients
YOU Deserve the Best




Free Case Review 24/7




You Don't Pay unless we win


Call 855.385.2529
---
By submitting this form, you agree to receive telephone calls and text messages at anytime, which include hours outside of business hours (8:00 am PST – 9:00 pm PST). This is so that we may reach you as soon as possible in order to consult on your potential case.
Featured Lawyers