Hospital Slip and Fall Accident Attorney | Doctors Office Injury Claims
---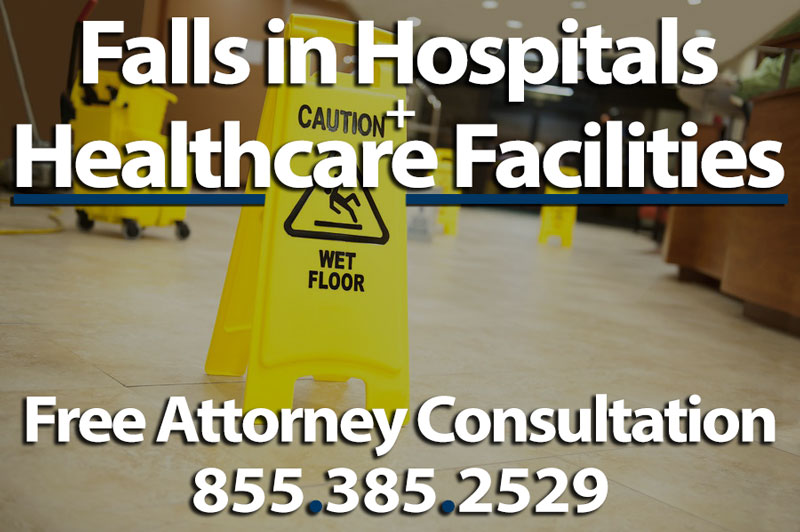 Hospitals and other healthcare facilities are supposed to comport to strict sanitary and safety guidelines.  However, many facilities fail to adequately clean floors and dry wet surfaces which then result in slip and fall accidents.  Such accidents usually lead in minor injuries. Sadly in some instances, such accidents result in serious and life-threatening injuries to patients and visitors. Often, hospitals are visited by individuals who have difficulty walking.  As a result, doctors' offices and hospital managers/staff must take extra precautions to make sure their floor is not wet, slippery, or has any object laying on it.  Failure to do so will lead to liability for the hospital owners and manager as well as owners of the property.   If you have suffered from a slip and fall accident in a Doctor's Office or a hospital clinic contact our Slip and fall premises liability lawyers today. Our goal is to fight victims' rights and make sure you receive the compensation you are owed.
Hospital Slip and Falls and Premises Liability
Premises Liability refers to the body of law that holds a property owner, or any person in possession of the property, liable for damages suffered on their premises.  In reference to "possession of property," this can include any person who:
Is in occupies and intends to control the property.
Has occupied with the intent to control the property, and no other person has followed; or
Is entitled to instant possession of the property and where no other party is entitled to such rights.
Hospitals, like all other establishments, owe a duty of care to all inhabitants of their premise, whether it be a patient, visitor, staff member, contractor, or other member. In order to prove that the hospital is responsible for your injuries, there are several elements that must be present. Those elements are listed below:
Hospital Owes You a Duty of Care. Hospitals need to keep those people on their premises reasonably safe. The first step in recovering compensation for your damages is to prove that the hospital owed you a duty of care. You will do this by proving that you were at the hospital at the time of your injury. You have to be a person who was undergoing treatment, doctor, nurse, employee, or even a visitor.
Hospital Was Negligent In Their Duties. For slip and fall cases, you have to show that the hospital did not clean a spill and did not dry the floor in a reasonable time. If the hospital did not put up a "WET FLOOR" sign, the hospital can be said to have acted negligently. For example, the hospital cleaning staff failed to mop a spilled liquid or failed to put up a "WET FLOOR" sign and someone slipped and fell. Or a hospital nurse or doctor left a cart in the middle of a hallway and a patient/visitor trips on it and gets injured in the fall
Hospital's Negligence Led to Your Injury. The point of this is to prove that if the hospital was the reason you got injured. If the hospital had not acted negligently, you would not have received your injuries.
You Were Hurt and Suffered Injuries. Your accident must have led to an injury. If you fell but you weren't hurt, then you can't sue the hospital because there is nothing to fix.
Our Recent Verdicts and Settlements
$550,000
Patient Trip and Fall
$200,000
Medical Malpractice
$300,000
Defective Medical Device
$125,000
Defective Medical Device
What are the common causes of hospital slip and fall accidents
Common causes are slip and fall accidents in hospitals are as follows Improper use of floor mats and runners – Lack of maintenance and upkeep of safety guidelines -Lack of proper and safe stairs and handrails – Poor drainage of pipes leading to wet and slippery floors – Contaminant on the floor – Poor Lighting – Uneven walking surface areas – Weather condition – Managerial and staff negligence – Loose cords, wires, laptop extension cords, hoses
Common Injuries resulting from Slip Trip and Fall Accidents
Some of the leading injuries caused by wet and slippery floors are as follows
Separated shoulder — If you fall on your shoulder, it can become dislocated and separate from its joint.
Knee dislocation — Falling on your knee can be incredibly painful. You can dislocate your knee, break it, and even break your kneecap.
Sprains to the neck and joints — Your neck is incredibly sensitive and the smallest amount of force can cause incredible discomfort.
Head Damage leading to Traumatic Brain Injuries — Blunt force trauma to the head can lead to severe brain injury. If you fall on your head, you need medical treatment as soon as possible to ensure nothing goes wrong.
Spinal Cord Injuries — Your back is intricate, and the smallest deviation from normal can lead to severe pain.
Soft Tissue Injuries — It is possible that you severely injure your soft tissue because of the fall.
Internal Bleeding and Hemorrhaging — Your injuries may not be visible. If your fall was nasty enough, your bleeding could be internal and so you would need immediate treatment to stop the bleeding.
There are many factors that can have an effect on the amount that will be recovered by our clients.  Some of the factors are as follows
The Type of Injury suffered
The extent of injuries
Permanence of Injuries
Whether brain damage was involved
Availability of Punitive Damages
Loss of Wages due to Pain and Suffering
Emotional trauma such as Post Traumatic Stress, Anxiety
Average Value of Slip and Fall Case
Every slip and fall case is different. Meaning the place where the fall occurred, the injuries suffered, and the specifics of how the fall happened are different. This means that the value of your slip and fall case is determined by the specifics of your circumstance. Medical Bills: Your bills for past and future treatment will be one of the factors that will contribute the value of your slip and fall case. If you have the right attorneys by your side, your compensation will include the full cost of the medical bills that resulted from the treatment you received from your injuries. Lost Wages: Your injuries may have forced you to miss work, and that means you lost wages because of your inability to work. A qualified lawyer can get you the wages you lost because of the hospital's negligence. If your injuries were severe and limit your ability to work in the future, you can get compensation to make up for the wages you could have made had you not gotten so injured. Pain and Suffering: There can be injuries which result in an affected psyche of a slip and fall injury. Trauma and emotional stress can be hard to quantify, and so a medical professional will have to testify as to the extent of your pain and suffering. Your lawyer must be experienced in order to get the maximum compensation when it comes to pain and suffering damages.
MAJOR HOSPITALS IN SOUTHERN CALIFORNIA
UCLA Medical Center (MC)
Cedars-Sinai MC
Hoag Memorial Hospital Presbyterian
Huntington Memorial Hospital
Keck Hospital of USC
UC Irvine MC
Long Beach Memorial MC
Providence Little Company of Mary MC Torrance
St. Joseph Hospital
St. Jude MC
Kaser Permanente Los Angeles MC
Providence Holy Cross MC
Kaiser Permanente Anaheim MC
Orange Coast Memorial MC
Torrance Memorial MC
Adventist Health Glendale
Mission Hospitals, Mission Viejo and Laguna Beach
Kaiser Permanente Downey MC
Kaiser Permanente South Bay MC
Tarzana MC
St. John's Health Center
St. Vincent MC
Centinela Hospital MC
AHMC Anaheim Regional MC
Alhambra Hospital MC
How the dtla law group can help
We at the DTLA Law Group are here for you, the client. We offer free legal consultation to all of our clients. Free legal consultation means that you have the ability to talk with one of our experienced attorneys and explain the details of your case. Our qualified slip and fall personal injury lawyers will listen to your case and give you their initial thoughts regarding your case. We want you to have all of the facts when it comes to something as important as legal counsel. This comes at no financial obligation to you, so there is no financial risk on your part. Additionally, we offer the zero-fee guarantee. This means that you will not pay for our legal services until we prove your case and you receive the compensation you deserve for the damages incurred. If we are unable to win your case, then you will not pay for our services. Remember that it is crucial to act quickly after you've been injured to report any accident-injury claim before any limitations can lower or extinguish your rightful claim. Call us for a free consultation with one of our personal injury lawyers regarding your injuries.
Over $500 Million Recovered
for Our Clients
YOU Deserve the Best




Free Case Review 24/7




You Don't Pay unless we win


Call 855.385.2529
---
By submitting this form, you agree to receive telephone calls and text messages at anytime, which include hours outside of business hours (8:00 am PST – 9:00 pm PST). This is so that we may reach you as soon as possible in order to consult on your potential case.
Featured Lawyers
The Ultimate Guide to Slip & Fall Accidents
– Slip and Fall accidents
– Nerve Damage from Slip and Fall Accident
– Legal Questions Regarding a Slip and Fall Claim
– Supermarket Slip and Fall Injury Attorney
– Hospital Slip and Fall Accident
– Brain Injury Caused by Slip and Fall Accidents
– Top 10 Causes of Slip and Fall Accidents
– Wedding Slip and Fall Accidents
– Defective sidewalk accident
– Miscarriage Caused by Slip and Fall Accidents
– Bowling Alley Injuries
– Slip and Fall FAQ
– Average Slip and Fall Lawsuit Settlement
– Workplace Slip and Fall Accident Attorney
– Headaches After a Slip and Fall Accident
– Nursing Home Slip and Fall Attorney
– Common Places Where Slip and Fall Accidents Happen
– Slip, Trip and Fall Accident Claims
– Slip and Fall Accidents on Buses
– Statute of Limitations Slip and Fall Accident
– Back Injury from Slip and Fall Accidents
– Movie Theater Slip and Fall Injuries
– Casino Slip and Fall Accidents
DTLA Client Review
"Farid was great! My boyfriend and I retained him in April 2017, as we were rear ended on the I101 . Our car was totaled and we were badly injured. On a family member's recommendation, we took a chance and contacted Farid for help with the process. After the whole ordeal, the last thing we wanted to do was deal with insurance companies."
– Alicia McIntosh

By submitting this form, you agree to receive telephone calls and text messages at anytime, which include hours outside of business hours (8:00 am PST – 9:00 pm PST). This is so that we may reach you as soon as possible in order to consult on your potential case.