Private Pool Accidents
---
Swimming pool injuries increase as the summer and spring months arrive. More individuals and families spend time in the water and have pool parties and barbecues. Private pools can be a source of injuries, though, especially for homeowners and property managers who are negligent in their duties of caring for the pools. Pools that have improper maintenance or care can lead to devastating consequences for others. There are many risks present, especially with young children. If you or a family member is hurt in a pool accident at a private residence or private property, you could take legal action for your damages. Our team of expert pool accident lawyers at the Downtown LA Law Group will help you with any course of legal action that you choose to take.
Types of Pool Accidents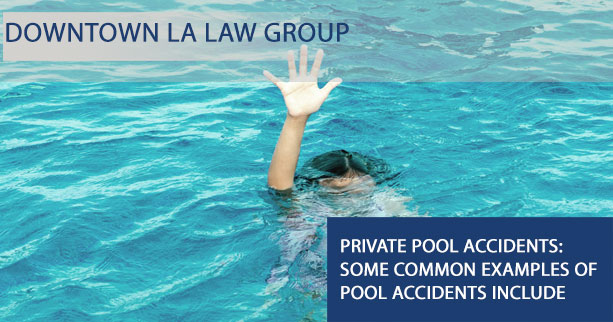 Private pools should be appropriately maintained by the property owner. There is no excuse that pools should be dangerous, and if there are any issues, they should be swiftly corrected, especially if the pool is constantly being used. Property owners who are not careful or who do not provide proper maintenance to their pools can be held liable in the event of injuries stemming from pool accidents. Some common examples of pool accidents include:
Slip and falls, which occur on the area surrounding the pool. These areas are the spots that get the wettest from splashing within the pool and from people entering and exiting. The area should be able to withstand the constant assault of water and should not be slippery enough that it can cause people to fall into the pool or onto the side. Many private pools in residences have concrete surrounding the pool to provide extra grip, but this is much more dangerous in the event of a fall. Above-ground pools are generally safer, as there is no way for someone to slip and fall into the pool.
Diving board injuries, which may happen if the diving board breaks, cracks in half, is too slippery, is not properly screwed or latched on, or if the diver jumps and lands on the board poorly or at an awkward angle. Many individuals have tried to jump off diving boards with no experience or when the board is not fully functional.
Excessive chemicals in the pool, such as bleach and cleaning materials, that can cause skin irritation, eye irritation, allergic reactions, and more.
Diving accidents, which occur when people dive into the pool in areas that are not near the diving board. The pool should be appropriately marked with the depths of each section, and diving into a shallow portion of the pool can result in devastating injuries, especially if the diver jumps headfirst. A lack of warning signs can contribute to this issue.
Defective ladders and stairs, which may prevent people from entering or exiting the pool safely. They could easily partially climb a ladder only for it to detach from the pool wall, causing them to plummet back into the pool or land hard on the ground next to it. Stairs may also be slippery, which can lead to falls and injuries.
Lack of lifeguards, which can be a problem in privately-owned pools in hotels or other facilities, but is seldom, if ever, an issue in homes that have private pools. There should be supervision in some areas.
If you are involved in any of the aforementioned pool accidents, you could suffer a litany of injuries. These damages range from very minor to life-threatening. Examples of such injuries include:
Broken bones
Fractures
Concussions
Traumatic brain injuries
Brain damage
Drowning
Allergic reactions
Severe illness
Loss of limbs
Lacerations and abrasions
Dislocations
Torn muscles
Nerve damage
Knee injuries
Hip injuries
Lung damage
Eye injuries and sight compromise
Paralysis
Coma
Death
It is extremely important that you reach out to a skilled attorney who has experience in pool accidents if you wish to file a lawsuit. You should not try to handle such a claim yourself, and we can help.
Our Recent Verdicts and Settlements
$1.96 Million
Pedestrian Accident
$825,000
Slip and Fall Injury
$500,000
Premises Liability
Liability of the Pool Owner
The pool owner can be held liable for the accident if you can prove one of three points. He either must have known about the defect or risk and chose to do nothing to fix it, caused the hazard or risk himself, or did not know about the hazard but reasonably should have if he were a diligent owner. These points of premises liability can be hard to prove; the majority of claims fall under the third option.
– Pool accident claims – Hotel Liability Swimming Pool Accidental Drowning – Swimming Pool Drowning Lawyer – Virginia Graeme Baker Pool & Spa Safety Act – Hotel Liability for Accidents and Injuries
In premises liability cases, all individuals fall under one of three categories. They are either invitees, or individuals who are on the property for a mutual benefit (like customers at a hotel who are using the pool), licensees (social guests, who may be next-door neighbors or friends), or trespassers (individuals with no legal right to be on the property). In general, invitees are afforded the highest duty of care and must be protected at all costs. Licensees are assumed to have been present before and know if there are any troubles and what to avoid. Trespassers, though, have no right at all to be present, and may be anything from robbers and thieves to pesky kids looking to take a late-night swim. Although trespassers should not be on the property, private property owners still cannot deliberately set traps, for instance, to harm the individuals. You should determine what class of visitor you are so that you can accurately move forward with a claim.
What To Do After A Swimming Pool Accident
If you have been injured in a swimming pool accident, whether it is a diving board accident or a slip and fall, you should take are to gather your evidence for your lawsuit and get medical attention at once. Your first step should always be to go to the doctor for treatment or to call the paramedics; they can evaluate you and determine if you have any other injuries that are not showing up. It will also be beneficial to pick up any medical documents and notes for your claim, as well as receipts and prescriptions if they were given to you. You should take as many pictures as you can. Your photos could include your injuries, the pool itself and the apparent defect or hazard, the scene of the accident, and more. You should also search for security camera footage, which may be present if the location was a hotel or similar facility. Your next step should be to interview any eyewitnesses if they were present so you can et their testimonies and statements as to what occurred. They can explain what they saw or they can provide insight as to previous incidents involving the pool. Be sure to get all the necessary contact information and insurance details from the property owner so that your claim will be routed to the right entity. Finally, it is important that you hire a skilled pool accident lawyer who can take on your case for you. We will get behind your lawsuit and ensure that all your evidence is organized and submitted to the right party. We will write the demand letter and negotiate a fair deal for you. We know that you may not have any legal experience and the trauma of the event could take its toll on you, and you may not be in any condition to file a lawsuit.
Pool Accident Lawsuit Compensation
The damages you could receive in a pool accident lawsuit are varied. They will be largely determined by the insurance agent responsible for handling your case. He will look at how injured you were and how much of an effect those injuries had on your life and career. He will then see how liable you were for the incident – for example, if you ignored all warning signs and went in the pool anyway, you may not be able to sue or receive the same amount of compensation you otherwise would have. Our lawyers will seek to win you the highest settlement available, including payment for the following:
Medical bills form the past and future
Lost wages from the past and future
Property damage for any lost items
Pain and suffering for emotional trauma
Wrongful death expenses if a family member or loved one died in the incident
With the help of our attorneys, your expenses can be fully paid off and you will not have to worry about anything stemming from the accident.
The Best Firm for You
The Downtown LA Law Group has ample experience in swimming pool cases. We have recovered millions of dollars for those who have been injured in diving accidents and other types of incidents. Swimming pools are dangerous areas, especially for children, and all parties should not have to worry about anything while using them. We will hunt for your rightful earnings no matter what. We are committed to your case and our aggressive lawyers will go to court if necessary to defend you in front of a judge and jury. We will give you a free legal consultation if you contact us. You can ask us anything you wish about your claim and we will walk you through the lawsuit process and what you may be able to receive in the claim. We will also give you more details on our zero fee guarantee, which promises that you won't spend a dime of your own money for our services. We won't get paid unless and until we win your claim for you. Contact the Downtown LA Law Group today to speak with a skilled lawyer concerning your swimming pool accident lawsuit.
Over $500 Million Recovered
for Our Clients
YOU Deserve the Best




Free Case Review 24/7




You Don't Pay unless we win


Call 855.385.2529
---
By submitting this form, you agree to receive telephone calls and text messages at anytime, which include hours outside of business hours (8:00 am PST – 9:00 pm PST). This is so that we may reach you as soon as possible in order to consult on your potential case.
Featured Lawyers
By submitting this form, you agree to receive telephone calls and text messages at anytime, which include hours outside of business hours (8:00 am PST – 9:00 pm PST). This is so that we may reach you as soon as possible in order to consult on your potential case.