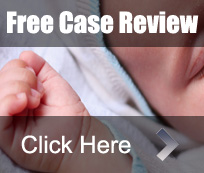 We are Child Injury Erb's Palsy attorneys dedicated to helping victims and parents of birth injuries receive just compensation for their injuries.  If your child has suffered a Brachial Plexus injury due to medical malpractice during pregnancy or the birthing process contact our law firm today.  We will fight for your child right to recovery against all responsible parties including Medical Doctors, Obstetricians, Patient Clinics, and Hospitals.
What is Erb's Palsy
Erbs palsy is a devastating condition caused generally by the malpractice and negligence of those who administer the birth. Often times this can occur when the doctors fail to inform the mother of their options, including cesarean section birth or other alternatives. If your child has Erbs Palsy contact our offices for a free case evaluation we can help with your recovery.
Risk Factors associated with  Erb's Palsy:
There are several risk factors associated with shoulder dystocia injuries including
Large Size of Child during delivery
Breech during delivery
Multiple Births
Prolonged labor
Diabetes of the mother
Diabetes during Pregnancy
Advanced age of the mother
Small frame of mother: Petite body or short height
Previous instance of birth injuries
Long duration of pregnancy
If you believe your child is the victim of Erb's Palsy contact a trained expert medical professional.  Some symptoms of Erb's palsy are
Loss of muscle control in the arm
Loss of motor functions of the hands and wrists
Lack of sensation in the arms, hands, and fingers
Paralysis: Numbness of the arms, hands and fingers
Shorter arm length in comparison to the unharmed arm
Flexed elbows
Rotated arms
Erbs palsy is not something that family should have to suffer without just compensation. We know how frustrating it is to deal with hospitals and doctors who will do nothing but deny liability. Our firm understands how difficult it must be to deal with insurance companies who will attempt to deny coverage and will fight for your rights. Our Los Angeles Erbs Palsy attorneys are committed, aggressive and relentless in our pursuit of justice. We will not stop until we have procured you a settlement sufficient to cover the costs associated with the future care of your child and compassionately serve the needs of our clients. Treatment:  Treating Erb's palsy injuries can be a long term and often permanent Endeavour.  Responsible parties are liable for all damages including long term treatment and medical care including
Child Occupational therapy
Physiotherapy including exercise and activities
Hydrotherapy (water therapy or swimming pool therapy)
Surgery
Positioning and splinting of the effected arms including a resting hand splint
Liability for Erbs Palsy: Birth Medical Malpractice
A major question with regards to Erbs Palsy cases is liability, who is liable for the injuries of my child? In such instances it can be possible to assert liability on multiple parties.
The treating physician or doctor can be held liable;
Hospitals and outpatient clinics can be held liable for the injuries; and
Supporting staff members including those who were present at the scene of the incident or at the time of the birth can be held liable.
Erbs palsy is a serious and devastating condition. It can cause emotional and serious financial consequences. Families dealing with a child who has Erbs Palsy know how challenging and difficult it is dealing with such conditions. Daily visits to therapist, doctors and hospitals can be taxing. Our offices can help with your recovery and obtain a settlement to help alleviate the
Brachial Plaxus Erb's Palsy attorneys are here to help:
Choosing a lawyer to deal with your medical malpractice case can be challenging. Our Erbs Palsy lawyers are qualified litigators which will help obtain the best settlement possible. The team at Downtown LA Law deals with Erbs Palsy cases, birth defects and other medical malpractice claims. Los Angeles birth defect lawyers at Downtown LA Law are aggressive litigators who will fight for your rights.
Remember: It is crucial to act quickly before any limitations can lower or extinguish your child's rightful claim. Call us for a free consultation with one of our birth injury lawyers regarding your claim: (888) 649-7166
Resources:  Information Center and Commonly Asked Questions Regarding Erb's Palsy Injuries