Mirena Attorney | Intrauterine Contraceptive Injury Lawsuits
---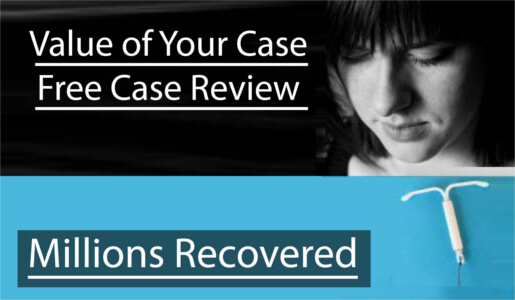 Mirena IUD is a widely popular progestogen intrauterine t-shaped contraceptive. It is commonly used for woman seeking an alternative to birth control and is considered a highly effective device. However, what manufacturers have failed to inform users of is the potential dangers associated with the use of the drug. In many cases users of the device are not aware of the potential dangers associated with its use. Serious side effects resulting from Mirena IUD Migrations include
Pelvic Inflammation
Chronic Pelvic Inflammatory Disease
Infertility
Miscarriage and Fetal defects
Severe infections
Organ damage including Severe internal scarring
Severe pelvic pain
If you have taken Mirena contact a Mirena IUD lawyer to discuss your case, you may be entitled to compensation for your injuries.
Defective Medical Device Lawsuits
A product is considered defective when it fails to perform in the standard for which it was designed. Products can be defective when they have a design defect, manufacturing defect or when there are insufficient warning labels. Design defects are applicable to the overall design of the product. In other words a product that has a design flaw will impact all similarly designed products. A design defect can have serious issues with regards to the overall usability or functionality of the product. Design defects are considered some of the most dangerous defects because they apply to all products. Manufacturing defects are not blanket defects and they are more specific or isolated. They occur when the actual product was defective due to some error in manufacturing. Failure to warn defects occur when the manufacturer does not warn of particular issues with the device. In Mirena IUD cases there is almost a clear indication of failure to warn. Manufacturers did not warn of a potential device migration risk or perforation of interior vaginal wall as a result of the device. Instead manufacturers only touted the benefits of the device, while negating potential complications.
Mirena IUD Device Migration
What is device migration? Mirena IUD devices have a tendency to move around while inside. This migration can pose serious issues. One of the main issues associated with migration is perforation of the interior vaginal wall. Perforation is small holes across the interior vaginal wall caused by the movement of the Mirena IUD device. The reason the device moves is part of what makes it defective and the fact that many recipients were not told of this issue further increases the defect argument. Device migration can occur when you have aggressive or sudden movement or participate in any type of exercise. When the device migrates it will essentially start poking or stabbing at the inside vaginal wall. These small holes can be painful and lead to sudden infection. However the infections rarely subside because they are almost always aggravated or reoccurring because of the device migration.
Mirena IUD Removal
In most cases the only available solution is device removal. Device removal can require surgery. However, many cannot afford the high cost of a surgical procedure. It is important to discuss this with your attorney. Our office provides medical liens with doctors who are willing to work on these types of cases at no upfront cost to you.
Common Signs Symptoms and Side Effects Associated with Mirena IUD Migration
There is an exhaustive list of common side-effects associated with Mirena IUD implants. While many of them are not exclusive to Mirena, there are a few which we feel are important to mention.
Vomiting
Nausea
Pain
Pressure
Un-explained menstreul cycle
Heavy bleeding
Extreme pain
Sudden infection
Miscarriage
Certain types of cancer
If you have these side effects from a Mirena IUD patch speak with your physician. It is advisable that you also speak with a Mirena IUD attorney to learn more about your rights. Mirena IUD cases are just starting, so it is important to make sure you speak with someone regarding your rights and success of your case.
Do I Have a Case for my Mirena IUD Injuries
Mirena IUD lawsuits require extensive intake and information in order to determine whether you have a viable case. In order for our law firm to make a evaluation we will need to know some important information. For our Mirena IUD questionnaire click here. In order to determine whether you have case we look to see whether the device has migrated. Generally, a migration of a IUD device can cause vaginal perforation and other harmful impacts. We look to see whether you have pain, cramping, bleeding, urinary problems and or infection. If there is a migration of the device, you may likely have a strong case and will need revision surgeries to remove the device. While this is only a brief rundown of our criteria, it is important to review the questionnaire above and submit it to our office for a free review. All information provided is absolutely confidential and does not obligate you to any agreement with our firm.
Mirena Class Action Lawsuits
A class action lawsuit is a joint lawsuit where multiple plaintiffs join together to file a lawsuit against a single defendant. While this may seem like a better way to litigate a claim, it is not entirely true. The reason being that each case is different. However a class action lawsuit will not give your claim the individuality it may need. Joining a class action lawsuit can limit your recovery or compensation. When there is a settlement, each plaintiff is paid evenly, unless otherwise stipulated by the court. However, this may not reflect your independent injuries. For example, if you have significant  
Statute of Limitations for Filing of a Mirena Injury Claim – Deadline for FIling a Lawsuit
Each state has a different statute of limitations. Statute of limitations refer to the amount of time you have to file a lawsuit for your injuries. In certain state you may have only 1 year to file a lawsuit. To see a full list of statute of limitations by state, click here. Statute of limitations are an essential element of any claim. If too much time has elapsed since you may be prevented from bringing a claim for your injuries. Generally, the statute of limitations can begin to count against you from the moment you first start taking the drug. However, in certain cases you can toll that statute. Many courts allow the statute to run from the time the plaintiff has knowledge of the injury caused by the defect. In certain situations, a tolling agreement can all together remove or eliminate a statutory issue. In order to get a better understanding, contact a Mirena IUD lawyer for a free consultation.
Legal Representation: Our office accepts Mirena IUD cases nationwide. If you have been injured, contact our offices today for a free case evaluation. (855) 339-8879
Over $500 Million Recovered
for Our Clients
YOU Deserve the Best




Free Case Review 24/7




You Don't Pay unless we win


Call 855.385.2529
---
By submitting this form, you agree to receive telephone calls and text messages at anytime, which include hours outside of business hours (8:00 am PST – 9:00 pm PST). This is so that we may reach you as soon as possible in order to consult on your potential case.
Featured Lawyers
The Ultimate Guide to Birth Injuries
– Birth Injury
– Birth Injury Questions
– California Birth Injury Law
– Child Suffering caused by birth malpractice
– Brain Injury at Birth
– Erb's Palsy – Brachial Plexus
– Compression of the Umbilical Cord
– Forceps Delivery Injury
– Shoulder Birth Injury
– Placenta Abruption
– Statistics
– California Statute of Limitations for Birth Injuries
– Depakote Cleft Palate Birth Defect
– Depakote Birth Defect
– NuvaRing Contraceptive Birth Control Device
– Lexapro attorney – birth defect lawsuits
– Facial nerve damage and paralysis bells palsy
– Beyaz and other oral contraceptives
– Fetal distress attorney
– Yaz pulmonary embolism lawsuit
– Shoulder dystocia attorney
– Klumpke palsy attorney
– Yaz deep vein thrombosis lawyer
– Facial nerve damage and paralysis bells palsy
– Hypoxia birth injury
– Paxil Birth Defect
– Birth Injury Lawsuit for Nerve Damage
– Clavicle Fracture Birth Injury
– C-Section Malpractice
– Yaz Defective Birth Control
– Yaz Lawsuit – Filing birth control claims
– Zofran birth defect lawsuit
DTLA Client Review
"I honestly cannot say enough good things about Farid. I never even truly became his client, as in I never paid him a single cent, and he helped me get my case settled with my current lawyer. I had accidentally contacted Farid's firm in an attempt to contact my lawyer, who had ignored me for months. Farid contacted me himself within minutes of me talking to a live representative of theirs online (and this was really late at night, too)."
– Ashlee Fletcher

By submitting this form, you agree to receive telephone calls and text messages at anytime, which include hours outside of business hours (8:00 am PST – 9:00 pm PST). This is so that we may reach you as soon as possible in order to consult on your potential case.