We are Anaheim Truck Accident Attorneys dedicated to protecting the rights of those who have been injured in a Trucking Accident in Anaheim and the surrounding communities California, including Anaheim is the center of automobile culture in the United States. Our cars and the ability to travel from one part of the city to another is an important aspect of our Southern California Culture. Anaheim massive highway system, the large amount of truck on the streets because of our proximity to shipping hubs in Long Beach /San Pedro, and high traffic congestion pose a lethal combination on our streets leading to a high rate of Small Truck and 18-Wheeler accident in Anaheim. Our Anaheim Truck Accident Lawyers have the skills and knowledge to protect your rights; we will stop at nothing until we are able to provide you with the maximum compensation for you Truck Accident that is legally possible.
– Los Angeles Truck Accident Lawyer
What You Need to Know: Truck accidents in Anaheim are often the most brutal form of motor vehicle accident and require an added level of skill and expertise. Often times, the law dictates that several different forms of insurance are required of the driver, such as leasing insurance, hazardous materials, 3rd party coverage, etc. creating issues in liability and coverage, and the insurance companies are well adept at avoiding responsibility. We know how to handle insurance companies. If an insurance company will not abide by its duty to compensate those which are covered by their policy then possible Punitive damages based on an Insurance Bad Faith Claim will be issued by our attorneys.
Learn more about your options for compensation by calling (888) 649-7166.
– Postal Truck Accident
Facts about Anaheim Truck Accidents and Anaheim Tractor-Trailer Accidents: Truck accidents often lead to grave injuries and in many cases death. Below are some important statistics regarding Small Truck and Big Rig Accidents in the United States.
Each year, close to 100,000 victims are injured in large truck accidents.
Each yearly nearly 5,200 victims are killed in Trucking Accidents in the United States
California is one of the states with the highest number of truck accidents and truck accident deaths.
Tractor/Semi-Trailers account for 63% of all Truck Accidents related deaths, and 45% of all injuries. [Tractor Trailers are larger the regular sized double axel or triple axel trucks]
A large percentage of Truck accidents are related to Driving Under the Influence, Poor Visibility, and Lack of Sleep [Sleep deprivation].
– Tow Truck Accident
How to Prove Your Case in Court: In order to receive compensation for a Anaheim Truck Accident, a victim will have to show the defendant driver was negligent in his driving. In many instances negligence is placed on the truck manufacturer for defective product or the truck company the driver was working for. Usually Negligence is established through any of the below:
Failure to maintain dangerous equipment
Loads were note restrained properly
Unbalanced or overweight loads on the Trucks
Speeding or unsafe driving of any kind
Driving under the influence [DWI or DUI] In cases of death this can lead to a Felony DUI Charge.
Failure to maintain roads
Negligent hiring practices or training by trucking companies
Lack of Sleep, Sleep Deprivation because of grueling schedule, Driver fatigue
– Food Service Truck Accident
Truck Accident Fatalities and Wrongful Death Suits:
Dozens of individuals perish in Truck Accidents in Anaheim, leaving family, children, parents or siblings behind without their loved one. In the most tragic instance of tractor trailer accidents entire families are involved a truck accident leading to the tragic death of sever injure of entire households. A wrongful death lawsuit claims that the victim was killed because of a negligent by a defendant. A wrongful death claim in common law jurisdiction has been specifically made due to a loophole where a person cannot file a lawsuit if he or she is technically dead. Our Truck accident wrongful death lawyers are skilled in representing families who have experience the death of a child, sibling, parent, due to an accident with a Truck. Let us help; for a free consultation regarding a Wrongful Death claim in a Anaheim truck accident call (888) 649-7166
To speak with a Los Angeles brain injury lawyer, call (888) 649-7166.
– Who's at Fault for Truck Accident?
Anaheim Jackknifing Accidents and Rollover Accidents: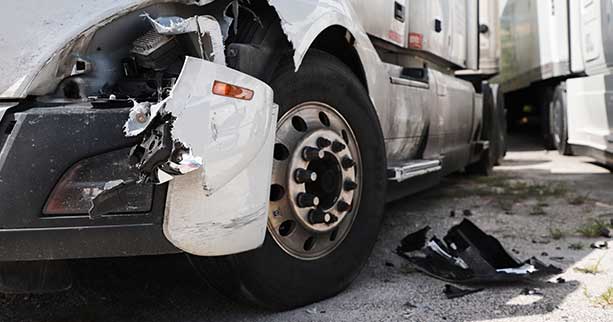 A Jackknifing takes place when the Tractor-Trailer truck, usually a truck carrying a load, folds into itself. It resembles a folding clamp or knife. This is a horrendous incident and any cars caught in between the folding truck will be in great danger of serious bodily harm or even death. A jack-knife accident is the result of the front cab of the vehicle skidding while towing a trailer causing the trailer to push from behind forcing it to spin around and face backwards. Our Anaheim Truck Jackknifing accident lawyers have expert knowledge of jackknife trucks and will do everything possible to see to it you and your loved ones are compensation for your loss. Truck Rollover Accident Lawyers: As well as jackknifing another danger posed by trucks on Anaheim Roads is Rollovers. Rollovers can happen for many reasons that are often tied to the negligence of the driver, or the company he works for. Rollovers will often lead to the crushing of the car that does not have enough time to escape the incoming tragedy. Rollover Accidents are a serious matter leading to grave bodily harm and in many cases death of the passenger and driver of the vehicle.
WHY CHOOSE US: Downtown LA Law Group for a Free Consultation
We understand that a serious injury or a death of a family member is tragedy for all loved ones. We offer our skilled Los Angles Truck Accident Injury Lawyers to represent you in your case. We possess the knowledge and determination to maximize the compensation for your injuries you deserve.
– Fedex Truck Accident
If you have been injured is a Anaheim Jackknifing accident or any other Truck related accident then contact our collision hotline (888) 649-7166; a personal injury lawyer will provide you with a free consultation regarding your matter.   Resources: Anaheim Truck Accident FAQ / Anaheim Truck Accident Statistics / Anaheim Truck Accident Attorney / What To Do After a Truck Accident in Anaheim / Anaheim Truck Laws / Anaheim Personal Injury Lawyers