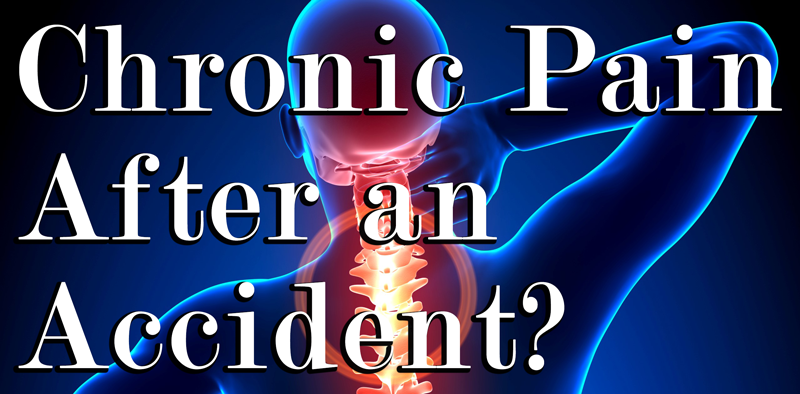 Have you experienced a traumatic injury as a result of a
personal injury accident
? If you were injured in the workplace, in a
car accident
, or in a
truck accident
, you might have experienced a series of painful injuries. In many cases of personal injury accidents, injured victims see an improvement or complete disappearance of their pain within three months of their accident. Unfortunately, many traumatic injuries result in chronic pain syndrome. Chronic pain syndrome sprouts from an acute injury—such as an injury arising from a personal injury accident. If the pain does not subside within three to six months, the pain is considered chronic. Many of the common injuries sustained as a result of
slip and fall accidents
,
workplace accidents
,
bicycle accidents
,
pedestrian accidents
, truck accidents, and motorcycle accidents, for example, can lead to chronic pain syndrome. Many of these personal injury accidents can lead to the following injuries, which can, in turn, lead to chronic pain syndrome: head injuries, traumatic brain injuries, back injuries, neck injuries, shoulder injuries, hip injuries, knee injuries, nerve damage, muscle damage, and broken bones, for example. Even if the injuries listed above are addressed with surgery and thorough treatment, victims can continue experiencing debilitating pain. If you were left suffering chronic pain syndrome as a result of a personal injury accident, the most obvious symptom is constant, severe pain. However, chronic pain syndrome can lead to many other symptoms that can quickly affect your lifestyle. Chronic pain syndrome could lead to anxiety, panic, irritability, depression, fatigue, problems with sleep, substance abuse, and suicidal thoughts, for example. These severe symptoms can quickly interfere with your personal and professional life and relationships.
So, what should you do if you are suffering chronic pain syndrome after a traumatic injury caused by the negligent and reckless actions of a party? If the negligent actions of a party resulted in the injuries that caused your chronic pain, you might have the right to file a lawsuit and receive compensation for your chronic pain. You might be compensated for the medical expenses, lost wages, pain and suffering, and punitive damages, for example. To become eligible to receive compensation for your chronic pain, you must first file a claim against the party liable for your injuries. Chronic pain syndrome is often misunderstood and disregarded by those who have never experienced constant debilitating pain. Our attorneys understand the complexity of chronic pain syndrome; let us help you file a claim against the party that negligently caused your personal injury accident which subsequently caused your chronic pain syndrome. Contact us as soon as possible for a free consultation or free second opinion today. Contact our law firm today for a free legal consultation today.
(855) 339-8879