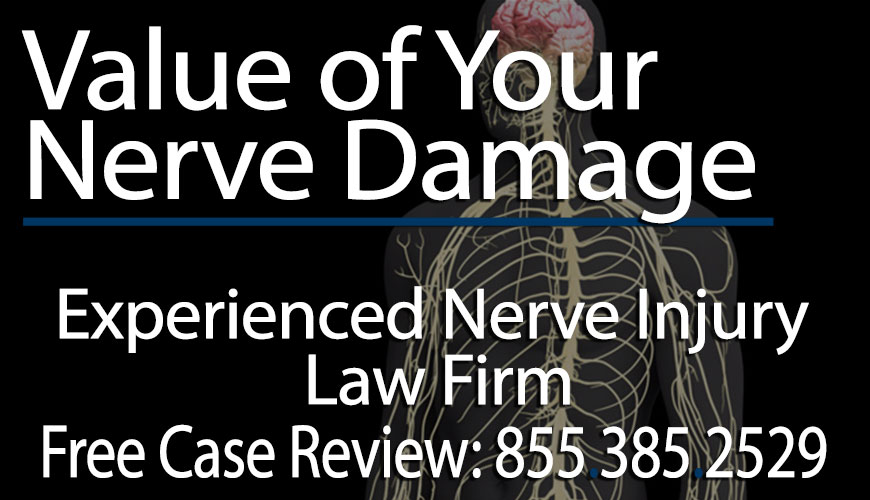 Nerve damage is one of the most common types of preventable injuries in the United States. There are numerous factors which determine the overall value of a personal injury lawsuit for
nerve damage
. Below is a list of the most important factors in determining the value of an injury case. If you have any further questions and would like to speak with nerve damage attorney regarding the filing of a claim feel free to call our law offices toll free
(855) 339-8879
.
What are the various types of Nerve Damages & How severe, are they?
The severity of nerve damage is a significant factor in determining the financial compensation which may be awarded in a personal injury cause of action. There are
three recognized degrees
of nerve damages.
Neurapraxia: A less severe form of nerve injury. Neuropaxia nerve damage will usually recover within a few weeks to months with proper treatment and rehabilitation.
Axonotmesis: A more serve type of nerve injury often resulting in paralysis and loss of sensory and motor functions in the part of the body sustaining trauma.
Neurotmesis: The most severe type of nerve injury resulting in permanent lacerations and damage to the nerve. In such cases victims will sustain permanent disabilities including loss of movement in the limbs, numbness and irrecoverable paralysis.
Individuals with more severe types of nerve damage may require lengthy and costly medical procedures including. (1) Extensive use of physical therapy including massage therapy and acupuncture (2) Nerve graft surgery (3) Nerve transfer surgery and (4) Use of expensive medication.
Permanence of the injury – need for life care:
In many cases nerve damage is irreparable even with rehabilitation care and revision medical surgeries resulting in a lifetime of pain discomfort, numbness and paralysis. Victims of permanent nerve injuries and paralysis may require life care assistance including home care, cooking, cleaning, nursing care, and transportation. The aggregate cost life care assistance may run into the hundreds of thousands if not millions of dollars. Victims of permanent disabilities from nerve damage are entailed to receive monetary compensation for the cost of basic living expenses.
What Are Signs of Nerve Damage After a Car Accident?
Lost wages and loss of future earning capacity:
Victims of personal injury often miss days, weeks or months of work due to the tragedy they have suffered. In such instances claim for compensation will include the monetary amount of money lost due to the inability to work.
Loss of future income:
A plaintiffs disability from an accident may result in a reduction in his/her projected earning capacity in the future. The calculation that is taken place in court is the estimated lifetime earnings of the plaintiff if there was no injury minus the projected lifetime earnings of the plaintiff who has is suffering from some type of disability which reduces his yearly income. More on
calculating future loss of earning capacity due to an accident
see here "
Recovering Future Loss of Earnings for Motorcycle Accidents
":
Pain and Suffering – Mental Anguish from the injuries suffered:
The calculation for pain and suffering compensation in a personal injury cause of action is usually based on a Per Diem analysis. Jurisdiction which use the Per Diem system for the analysis of pain and suffering present the jury with a daily calculation of the emotional and physical pain and suffering imposed by the negligent party on the victim. Such calculations involve not only the pain and suffering that has taken place but future pain and pain and suffering. Under such calculations permanent disabilities such as nerve damage,
scarring
,
disfigurement
,
paralysis
, will be given much greater weight and are likely to result in greater awards and verdicts by juries.
Check also Nerve Damage After a Car Accident: Personal Injury Lawsuit Guide
What are various causes of Nerve Damage?.
Some of the most common are as follows
Nerve Damage Case Value – Nerve Injury Lawsuit – Example
Carla is a 23 year old teacher who is a victim of
severe nerve damage
and partial paralysis of her arms due to a truck accident. Her injuries are permanent and she is unable to work because of the paralysis of both her arms.
Medical Costs: $13,000
Life time prescription Drug Costs: $69,000
Future Rehabilitation costs: $50,000
Loss of income: 30 years at $40,000 per year = $1,200,000
Pain and Suffering: $500,000
Life Care costs: $20,000 per year for 40 years = $800,000
Total values of her case is approximately $2,632,000
– What Are Signs of Nerve Damage After a Uber Accident?
Contacting our law firm – Second opinion from our experienced attorneys
If you have suffered nerve damage due to the negligent conduct of others and would like to learn more about pursuing a claim for compensation contact our law offices. Also our attorneys offer no cost second opinions and analysis on behalf of individuals who have an active personal injury claim with another law firm. We are able to provide victims with a detailed review where we can assess the potential settlement value of their claims.