Who Can Sue For Elder Abuse?
---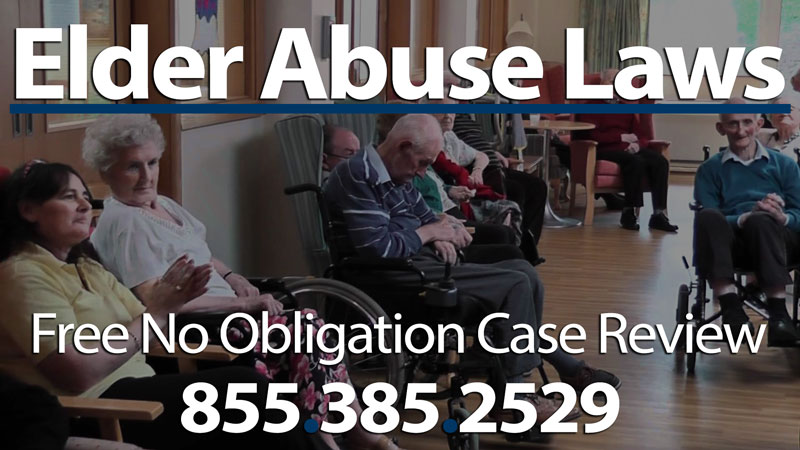 Elder abuse is a universal expression to describe any type of harm or wrongdoing committed against an elder individual, generally over the age of sixty-five.  Elder abuse can include any type of harm including
Physical abuse — We expect nursing homes to take care of our loved ones. Physical abuse is the last thing we expect our elders to suffer. Some nursing homes will physically abuse the elder patients because they have hired without proper background checks and give improper training. Old minds can cause the elderly to act irrationally, but it is no excuse to physically abuse them. If you or a loved one suffered from physical abuse at a nursing home, our attorneys can help file the proper lawsuit. 
Emotional elder abuse — An elder person's mental state can fluctuate wildly and so it is up to the caretakers to care for their mental health. Some caretakers who were not well-trained or should never have been hired emotionally abuse the elderly by calling them names, putting them down, and more. This can severely affect the mental state of the patients.
Sexual abuse — Caretakers who engage in sexual abuse often target elders who have medical conditions that cause a form of memory loss, confusion, problems with communication, and other afflictions like that. They believe that simply because the elders cannot communicate their atrocious behavior, or will forget, they can get away with it. Our attorneys can help you or your loved one get the lawsuit going. 
Elder neglect and self-neglect — The caretakers need to maintain the elder's health while they are under their care. This means making sure they are eating, drinking their fluids, taking their medication, getting rest, maintain proper hygiene, and other such things. If the elderly are being neglected, then you have the right to file a lawsuit against the nursing home. If an elder is left alone without proper care, they could pass away. In this case, a wrongful death lawsuit could be filed against them. 
Financial abuse or exploitation — The caretakers cannot exploit the elderly. Some caretakers will trick the old patients into wiring them money. If your loved one has been exploited financially, you can file a lawsuit against the nursing home. Contact our LA law firm today. 
With a growing population increasingly entering this demographic, the California legislature years ago approved the Elder Adult and Dependent Adult Civil Protection Act (EADACPA) also referred to as the "Elder Abuse Act" which broadened the reach of elder abuse to include dependent adults.  Dependent adults are defined as a California resident between the ages of 18-64 with physical or mental limitations and unable to care for themselves. In any lawsuit, the person who is filing a lawsuit against another party is called the plaintiff. In order to become a plaintiff in any lawsuit, a person must have what is known as standing.  Standing is discussed in California Civil Code of Procedure Section 367, which states
Every action must be prosecuted in the name of the real party in interest, except as otherwise provided by statute (CCCP, §367)
In other words, if the elder or dependent adult did not die as a result of the elder abuse, then the victim of the elder abuse is the only real party in interest in any potential elder abuse lawsuit, and only he or she has standing to file a lawsuit.  However, even thought the Elder Abuse Act does not specifically address standing in situations where the elder abuse victim is still living, the statute provides a expansive definition of elder abuse standing, leaving the door open for loved ones and family members to file a lawsuit for elder abuse cases. This is primarily because older individuals who are dependent on their perpetrators are often reluctant  to initiate suit against a party that is caring for them, even when that care is abusive. Our attorneys understand the fragile nature of elder abuse litigation and how to defeat standing objections.  Please call Downtown L.A. Law Group to discuss your elder abuse claim for  at no charge directly with an attorney.
Who Can Sue for Elder Abuse Once the Victim Passes Away?
After the elder dies, the right to sue for elder abuse transfers to a named personal representative of the deceased elder.  If there is no personal representative, the right to sue is assigned (in order) to:
An intestate where the interest is affected
The deceased elder's successor in interest
A person named as an "interested person"
A successor in interest can include the elder's children, grandchildren, close relatives, family members or other guardians.  These individuals can sue on behalf of the deceased elder victim.  Furthermore, if the personal representative fails to bring an action against the perpetrator, then the parties named above may also file a lawsuit. Interestingly, the EADACPA provides for additional compensation in wrongful death lawsuits after the elder victim has passed away.  Normally, wrongful death lawsuits only allow compensation for economic damages, and not non-economic damages.  Non-economic damages include pain and suffering, emotional distress and other special damages.  The Elder Abuse Act, under California Welfare and Institutions Code §15657(b), allows for compensation in wrongful death action in elder abuse cases of up to, but not exceeding $250,000.00 Many attorneys are not aware of these provisions, and therefore fail to procure the maximum settlement for their clients.
FREE LEGAL CONSULTATION 
Our attorneys are here for you. As a display of our commitment to you, we offer free legal consultation to all of our clients. This means that you will have the opportunity to sit down with one of our attorneys and explain your case to them. They will listen to you and answer any questions you may have about your case. We offer this because we want you to have all the information possible so that you can make an informed decision. Additionally, we offer the zero-fee guarantee. This means that we will only charge you for our legal services if we can prove your case and get you the compensation you deserve. If we are unable to do our jobs, we will not charge you.
The Ultimate Guide to Nursing Home Neglect & Elder Abuse
– Elder Abuse Attorney Los Angeles – Nursing Home Neglect – Emotional Elder Abuse Attorney – Bed Sore Attorney | Elderly Neglect – Medication Error in Nursing Homes – What is Elder Abuse? – Nursing Home Slip and Fall Attorney – Elder Financial Abuse Attorney – Elder Abuse Neglect Laws Attorney – Residential Care Elderly Abuse Attorney – Elder Abuse Wrongful Death Lawsuit – Elderly Medical Malpractice Attorney – Bed Sore Wrongful Death Lawsuit – Bed Sore Injury Attorney – Nursing Home Neglect – Different Stages of Bedsores – Hospital Bed Sore Lawsuit – Can a Hospital be Sued for Patient Neglect – Nursing home sexual assault – Infections in Nursing Homes – Nursing Home Heat Stroke Lawsuit If you or a loved one was abused at a nursing home contact our LA law firm today to see what we can do for you.
OUR ATTORNEYS CAN HELP FILE THE PROPER LAWSUIT AGAINST A NURSING HOME
BED RAIL ACCIDENT ATTORNEY – NURSING HOME INJURY LAWSUIT PHYSICAL ABUSE BY RESIDENTS OF NURSING HOME AGAINST THE ELDERLY NURSING HOME CLASS ACTION LAWSUIT FOR ELDER ABUSE AND NEGLECT NURSING HOME RESTRAINTS LAWSUIT — ELDER ABUSE ATTORNEY CHOKING DYSPHAGIA — NURSING HOME ELDER NEGLECT LAWSUIT INFORMATION
Over $500 Million Recovered
for Our Clients
YOU Deserve the Best




Free Case Review 24/7




You Don't Pay unless we win


Call 855.385.2529
---
By submitting this form, you agree to receive telephone calls and text messages at anytime, which include hours outside of business hours (8:00 am PST – 9:00 pm PST). This is so that we may reach you as soon as possible in order to consult on your potential case.
Featured Lawyers
By submitting this form, you agree to receive telephone calls and text messages at anytime, which include hours outside of business hours (8:00 am PST – 9:00 pm PST). This is so that we may reach you as soon as possible in order to consult on your potential case.