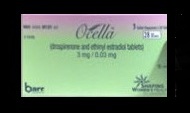 Ocella is the generic version of the popular birth control pills
Yaz
and Yasmin. The common components within all three drugs are drospirenone and ethinyl estradiol. Introduced in 2008 by Teva Pharmaceuticals, these ingredients have been marketed to not only protect against pregnancies, but also to help woman dealing with acne, bloating and depression. Ocella, much like its counterparts Yaz and Yasmin, disperses small amounts of drospirenone and ethinylestradol in order to alter the lining of the cervix and uterus so as to prevent sperm from reaching a woman's egg. The drug has also been prescribed to treat several problems associated with premenstrual disorders, such as weight gain, acne, bloating, fatigue, headaches and more. However, unlike other forms of birth control, Ocella increases levels of potassium in a woman's bloodstream, and has been known to lead to serious side effects, such as:
Heart attacks

Stroke

Blood clots

Kidney failure

Death
Woman with specific health concerns are at an even higher risk for these serious side effects. These conditions are:
Obesity

Heart or Kidney issues

Cancer

Jaundice

Diabetes
Contact an Ocella attorney at Downtown L.A. Law Group if you have experienced any of these side effects as a result of taking any of these birth control pills
. The manufacturers of these drugs are responsible for your injuries, and our law firm will help you receive just compensation.
Is Ocella Different than Yaz or Yasmin
As a generic version of these popular drugs, Ocella, it contains the same amount of progestin (drospirenone at 3 milligrams) and estrogen (ethinyl estradiol at 20 micrograms) as its counterparts. However, even thought the drugs should be indistinguishable, there are often slight differences in the generic versions, that may lead to different side effects. For the most part, though, woman who would be at risk for Yaz and Yasmin would share the same dangers when taking Ocella.
Ocella Lawsuits
The FDA has reported over 50 deaths in connection with woman taking the birth control pills Yaz, Yasmine, or Ocella. A main reason for these deaths is the inclusion of drospirenone. In fact, in an August 2009 study published by the British Medical Journal (BMJ) revealed that these drugs place woman at a higher risk of developing blood clots than any other form of birth control. By late 2011, the FDA required all birth control products containing the synthetic hormone drospirenone to include a warning that woman are exposed to increased dangers of blood clots compared to other forms of birth control. Since then, there has been a flood of lawsuits against the manufacturers by woman who have suffered serious side effects associated with the use of these drugs. In 2012, Bayer, the manufacturer of Yasmin agreed to pay approximately $110 million to 500 woman who used the popular birth control pill. Later that year, Bayer settled another 3,490 claims for a reported $750 million. Several thousand more cases are pending, which have been consolidated in multi district litigation (MDL). These lawsuits are based on the notion that the manufacturers failed to properly investigate the potential dangers associated with the drug and continued to market the drug despite its known dangers. The FDA has further accused these manufacturers of downplaying the risks in their commercials and marketing materials.
Filing a Lawsuit for the Death of a Family Member Due to Ocella – Wrongful Death Claim
In some instances serious side effects associated with Ocella, such as deep vein thrombosis, and pulmonary embolism can result in the death of the user. Relatives of victims have the right to monetary recovery based on a Wrongful Death cause of action against manufacturers and distributors of Ocella. Jurisdictions across the United States may have certain restrictions as to who is permitted to file a wrongful death claim. For instances, under
California Wrongful Death CODE OF CIVIL PROCEDURE SECTION 377.60-377.62
a cause of action for wrongful death can be asserted by The decedent's surviving spouse, domestic partner, children, and issue of deceased children, or, if there is no surviving issue of the decedent, the persons, including the surviving spouse or domestic partner, who would be entitled to the property of the decedent by intestate succession.
Ocella Claims Help
If you or a loved one has suffered complications as a result of your use of Ocella, please seek immediate medical care. If you seek representation, you may contact us
online
, or call our toll-free number. We are currently accepting Ocella claims, and are offering a free case evaluation to individuals affected. At attorney at Downtown L.A. Law Group is available to answer your questions directly.