12 Killed; 52 Injured by Falling Tree in Madeira, Portugal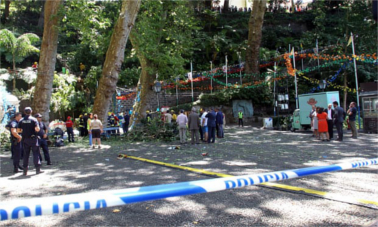 Hundreds of people gathered to celebrate the Feast of the Assumption in Funchal, a town in Madeira, Portugal, on Tuesday, August 15 of 2017. The crowd featured Madeiran citizens and European travelers, all partaking in the festivities at the Lady of the Mount festival. Around 10 in the morning, a tree near Fountain Square toppled over, landing on numerous bystanders and wounding many others due to broken branches and limbs and surrounding environmental damage. The incident was caught on video and streamed via Facebook Live by a witness who was recording the festival at that time. The event happened suddenly and without warning, both eyewitnesses and the video confirm. According to authorities and emergency personnel, dozens of
people were injured
, and 12 fatalities occurred. Of the deaths, 2 were reported to have been children. Information regarding the circumstances of the incident has revealed that the tree, a two-century old oak, had a hollow trunk. It was supposed to have been shored up in the past few months, but ultimately, no support system was created, nor was the tree chopped down. It has not yet been reported if the tree is the property of the town of Funchal or if it resided on the church's land.
Learn more about your options for compensation by calling (855) 339-8879.
Victims of the falling tree
were treated at the site of the incident, while others were moved to local hospitals and health centers.
A Falling Tree Accident Attorney Can Help You
Victims of falling trees or tree branches may be entitled to compensation for their damages. Contact Downtown LA Law Group to speak to a falling tree accident attorney today.
If you have been struck by a falling tree or branch, you should contact a lawyer to find out who is responsible for your injuries. Many trees are on public property, such as in parks, on sidewalks, or roadside, thus making them property of the city or the state. As such, all tasks relating to the trees are the responsibility of the government: maintaining the tree, trimming the branches, cutting off dead limbs, and ensuring the roots are not damaging additional property or wrecking the environment. Simple proper maintenance goes a long way in preventing injuries from occurring if a tree falls or a branch snaps off. Some trees, however, are on the property of private landowners who either maintain the trees themselves or contract the work out to gardeners and landscapers. Even though this work is contracted out, the burden of responsibility for maintaining the tree still falls on the landowners; that is, the landowner should always ensure that the tree is being taken care of and does not pose a risk by being unstable or having dead or dying limbs and branches on it. Regardless of whether the government or a private landowner owns a tree, you should be aware that any negligent action on behalf of the owner is grounds for you to file a personal injury claim in the event you are injured by the tree. Both government entities and private landowners may miss or ignore signs that a tree may fall or poses a risk, such as hanging limbs, dead branches, hollow trunk, uprooted base, trunk damage, rot, and fungus.
Aftermath of the Incident
Trees can be very heavy, huge, and solid, and when falling from even a moderate height, they can total cars and leave cracks and holes in the street and earth. If a tree or tree branch falls on you, you face serious injuries and even death. Some of these injuries on the less severe end include broken limbs, broken ribs, lacerations, deep wounds, and concussions. However, you can also suffer much more debilitating injuries, such as traumatic brain damage, paralysis, broken neck, broken back, and severed body parts. Upon being the victim of a tree accident, you may be able to recover damages for medical bills, lost wages, and property damage. For example, if you were driving your car and a tree toppled onto your vehicle, totaling it and putting you in the hospital with moderate lacerations and bruises, two broken legs and a dislocated shoulder, you would have a solid case. You would likely be able to have your medical treatment covered, including hospitalization fees and medication; recover lost income from having no ability to physically work or travel to work; and recover some money for your damaged vehicle.
Our Firm
Downtown LA Law Group
has presided over cases involving trees falling on victims and cars. Our team is no stranger to uncommon cases, and we would be happy to represent you in a claim against the responsible party. You should be compensated for your injuries if a landowner or government section ignored their duties and allowed a tree to damage other people and its surroundings. Call Downtown LA Law Group at
(855) 339-8879
today to receive a free legal consultation on your case. We will discuss the best way to move forward and what we hope to achieve by taking on your claim. Further, we offer a zero fee guarantee for all clients: we do not ask for any payment or collect any fees unless we win your case and bring you a settlement you deserve.