Average Nerve Damage Settlement – Value of Nerve Injury Lawsuit
---
Nerve Damage is a common injury sustained by victims of auto accidents, workplace incidents, dog bites, slip and falls, and cases of medical negligence including surgical malpractice. One of the most frequent questions asked by victims of severe nerve damage during consultations with our attorneys is, "how much my case is worth," or "what the value of my case?" The estimated value of a personal injury case is dependent on numerous factors unique to the individual harmed. Only a qualified personal injury attorney who can investigate the facts of your case will be able to determine the estimated value of your claim.
Below is detailed information regarding the most significant factors involved in determining the value of a nerve damage claim. If you have any further questions and would like to speak with an attorney or receive a full no-cost legal consultation regarding your claim contact our law offices toll-free (855) 339-8879.
Learn more about your options for compensation by calling (855) 339-8879.
Factors in Determining the Value of a Nerve Injury Lawsuit:
1. Severity of the Injury Suffered: The extent of an individual's injury is the chief factors in determining the estimated probable value of a personal injury lawsuit. There are several degrees of nerve damage including
Neurapraxia: Where the structure of the nerve remains intact usually resulting in full recovery
Axonotmesis: A more severe type of nerve injury often resulting in long-term or permanent paralysis of motor and sensory functions.
Neurotmesis: The most severe of all types of nerve damage. When this type of injury occurs, the actual nerve is severed entirely, leaving you with permanent damage.
The severity of the injury will likely be based on a victim's medical costs, including emergency room visits, hospitalization, prescription and over the counter drug medication, and revision surgeries.
2. Cost of Future Disabled Care and Medical Care: In some severe cases victims of nerve damage will suffer paralysis including quadriplegia and tetraplegia. According to recent studies by the National Institute of Health and the Center for Disease Control the average lifetime health and life care costs including nursing care, home care, and transportation, of individuals suffering from severe cases of nerve damages is between 1.5 million to 2.5 million dollars. Victims of catastrophic injuries resulting in a permanent need for care are entitled to financial recovery from at fault parties.
3. Lost Wages and Loss of Future Income Due to Disability: Lost wages are usually calculated via pay stubs. In instances, vocation experts will be brought in where a calculation for future loss or reduction of income is required.
4. Pain and Suffering Associated with Injury Suffered: In most cases, pain and suffering calculation is based on the severity of the injury multiplied by the number of days a person suffers. For example, a jury places the daily value of pain and suffering for a victim of severe nerve injury resulting in paralysis at $300; this is multiplied by the number of days a victim is expected to suffer from the injuries which is established by the court at 600. Thus the pain and suffering value of the individual's case will be $300 X 600 = $180,000.
5. Availability of Punitive Damages: In most cases, punitive damages are awarded when a defendant acts intentionally to cause a plaintiff harm, or acts in reckless disregard for the health and safety of others. Punitive damages are intended to punish at fault parties so that they will refrain from future conduct resulting in similar injuries. California courts and the United States Supreme Court have established a premise where punitive damages cannot be awarded in excess of 10 times the value of actual damages.
Call (855) 339-8879 to set up a free, no obligation consultation to find out if you have a case.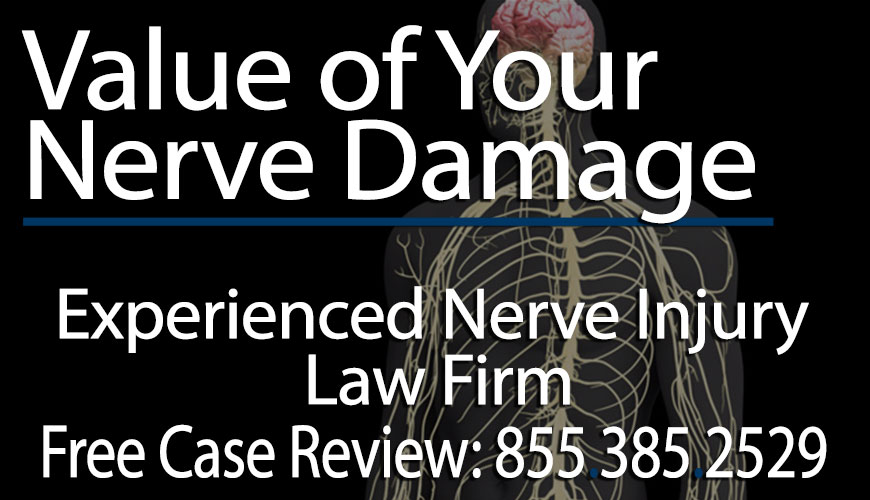 Compensation for Injuries Suffered: Victims of personal injury in Los Angeles are entitled to compensation for all damages suffered due to the negligent or intentional conduct of others.
Second Opinion – Free Case Review – Nerve Injury Claim
If you have an existing claim with another law firm and would like a second opinion regarding your case and its potential value feel free to contact our law offices. All legal consultations are provided by our experienced personal injury attorneys free of charge.
Further Information: CRPS or Complex Regional Pain Syndrome Due to Nerve Damage Nerve Damage Caused by Dog Bites Nerve Damage Caused by a Car Accident Nerve Injury Caused by Surgical Error
Over $500 Million Recovered
for Our Clients
YOU Deserve the Best




Free Case Review 24/7




You Don't Pay unless we win


Call 855.385.2529
---
By submitting this form, you agree to receive telephone calls and text messages at anytime, which include hours outside of business hours (8:00 am PST – 9:00 pm PST). This is so that we may reach you as soon as possible in order to consult on your potential case.
Featured Lawyers
Like This Article? Get Monthly Updates FREE!
By submitting this form, you agree to receive telephone calls and text messages at anytime, which include hours outside of business hours (8:00 am PST – 9:00 pm PST). This is so that we may reach you as soon as possible in order to consult on your potential case.