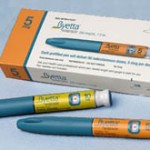 Byette (Exenatide) injections were approved by the FDA in 2005 to treat diabetes. Since then there have been numerous reports of serious health complications associated with the taking of the diabetes medication. The Downtown LA law Firm is currently evaluating possible defective drug claims against the makers of Byetta for person who have been severely injured or have died from taking the anti diabetes injection-medication.  If you have been using the Byetta injection and have developed pancreatitis, pancreatic cancer or renal acute kidney failure contact our law firm for a free non cost evaluation of your claim. We will be able to evaluate your legal options and determined the best legal course of action possible.
Acute Pancreatitis and Pancreatic Cancer Caused by Byetta / Exenatide
The Food and Drug Administration has recently published new data showing a associative relationship between the diabetes prescription drug medication Byetta and an increased rate of pancreatitis and pancreatic cancer. Symptoms of pancreatitis are numerous and can include any of the following.
Upper pain in the abdomen
Nausea including vomiting
Radiating abdominal pain
Increased pain and discomfort after eating
Cancer is one of the most deadly ailment to befell man. Pancratic cancer is one of the most lethal types of cancer. Afflicting and killing tens of thousands of Americans each year.  After the FDA warning on the increase in the rate of pancreatitis amongst persons who use Byetta, Eli Lilly and Amylin issue a statement voicing their opinion that patients who use Byetta only display, "very rare case reports of pancreatitis'.  However, since then its manufacturers have issue a black box warning for the medication stating "Serious side effects can happen in people who take BYETTA, including inflammation of the pancreas (pancreatitis) which may be severe and lead to death."
Byetta and Acute Renal Railure: Kidney Failure
In 2009 the FDA issued a warning concerning the association of Byette and acute renal failure. According to the warning, individuals prescribed with the injection must also receive warnings by medical health processional regarding chances of altered kidney function, including acute renal failure and insufficiency. The warning stated, "From April 2005 through October 2008, FDA received 78 cases of altered kidney function (62 cases of acute renal failure and 16 cases of renal insufficiency), in patients using Byetta." Visit here for more information in FDA warning on kidney renal failure and Byetta:
Byetta Lawsuits: Compensation for your injuries cause by dangerous diabetes prescription medication
If you or a loved one have suffered from serious medical health complications due to the taking of the prescription drug medication Byetta you may be entitled to compensation for all your damages. Your recovery will be based on the severity of your injuries as well as other factors including.
Recovery for all hospitalization and medical treatment costs caused by the defective medication
Future rehabilitation costs and cost for further medical treatments
Recovery for lost wages, loss of income and future loss of income because of inability to work
Pain and suffering cause by the taking of the defective drug
Punitive damages against pharmaceutical companies – where possible
Byetta Legal Help: If you have any questions or concerns regarding the harm you have suffered from Byetta and possible litigation against the drug manufacturers contact our law offices.
We are available 24 hours per day and seven days per week to take you call (888) 649-7166
Further information:  NIH Report on Byetta – Exenatide