Fair is changing the way people have access to cars. It is an alternative to the traditional method of getting vehicles through dealerships with high fees and long-term commitments. As Uber and other rideshare companies become more and more popular, rideshare drivers are more in-demand than ever. For many years, only people who actually had a
car could drive for Uber
and make income that way. Recently, new companies and existing companies have made it possible for people who are interested in driving for Uber to rent cars to use for ridesharing. Fair is one of these companies. Interested parties must already be associated with Uber; they can simply download the Fair app and get a car. Without a doubt, Fair has made it possible for people wouldn't normally be able to drive for Uber to do so and earn income.
How Much does it Cost?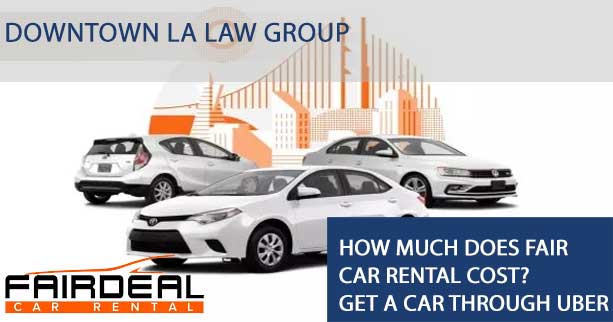 You can get a rental car to use to drive for Uber, but how much will it cost you? Is it worth it? Californian Uber drivers have access to
rental vehicles through Fair
for as low as $185 a week plus tax. There is a $185 refundable security deposit that must be paid to use the service. To reserve a car and start using it to drive for Uber, you must pay both the refundable deposit and the first weeks payment. Essentially, you could start using the rental car to drive for Uber for as low as $370 (your deposit will be refunded after you return the vehicle). The rental is based on a 7-day period. In other words, the $185
(plus tax)
covers one week of the rental. At the end of the 7-day period, you have the option to return the vehicle (and get your deposit refunded) or to extend your rental. If you do not return the vehicle by the end of the 7-day rental period, your rental-period will be auto-renewed for another 7 days. When your rental is auto-renewed, you will be charged another $185 (plus tax) for the additional week. This will continue until you return the car, ending the rental.
Perks for Uber Drivers
Fair makes their car rentals even more convenient for Uber drivers. Uber drivers who rent vehicles at the $185 weekly rate are eligible for rewards. When there are 70 trips completed with Uber every week, the driver is rewarded with $185. When 120 trips are completed with Uber every week, the driver is rewarded with $305. This reward comes specifically from Uber and will reflect on your earning statement every Thursday. If you earn a reward, you could use it to pay for the rental – your rental will practically pay for itself. In addition to the rewards program available for Uber drivers as mentioned above, Fair also provides Uber drivers with a free week of a rental vehicle. To be eligible for this offer, interested parties must (1)
be a new Fair customer
, (2)
have a valid driver account with Uber
, and (3)
pay the refundable $185 security deposit
. If you are eligible for this offer, your refundable security deposit will be the only thing that you will have to pay to rent the vehicle; again, you will be refunded for your deposit upon your return of the vehicle.
We Want to Help
Without a doubt, the partnership between
Fair and Uber has resulted in many benefits to drivers
who need access to rental vehicles. Many Uber drivers find themselves involved in auto accidents. Fair-affiliated Uber drivers can also
suffer car accidents
. If you suffer injuries after being involved in an accident in your Fair rental vehicle while you were driving for Uber, do not hesitate
to contact our law firm
as soon as possible. The knowledgeable attorneys at
Downtown L.A. Law Group
are ready to provide you with the information that you need to take legal action and recover the compensation that you deserve. Our
Zero-Fee guarantee
and our strict contingency structure ensure that you will never pay upfront legal fees and only pay after you win. Do not
hesitate to contact
our law firm today.