Questions and Answers about ZUM Ridesharing Service
---
Zum is a rideshare company with a specific goal and exercise in mind to help it achieve that goal. At first glance, Zum is nothing more than yet another ridesharing app, but it is actually much more. It is an alternative to Uber in that it transports children who need rides and it allows parents much more leeway and freedom in their planning. Because Zum provides a unique set of services, it is no surprise that it is the subject of many lawsuits and queries. Given the fact that Uber cannot legally transport kids, Zum's success has come as no surprise. It is still a relatively unknown service, though, and many users are unsure of what to do in the event of an accident. Our Zum injury lawyers at the Downtown LA Law Group can help you move forward with your lawsuit.
What Is Zum?
Zum is a rideshare service that is specifically geared towards providing rides for children. Because it is illegal for Uber, Lyft, and other such companies to transport children, Zum can fill that gap in the industry. It has its certificates and is able to hire drivers who meet the needs for childcare transportation and caretaking.
Where Does Zum Service?
Zum currently offers rideshare services in California, Arizona, Florida, Illinois, and Texas.
How Does Zum Work?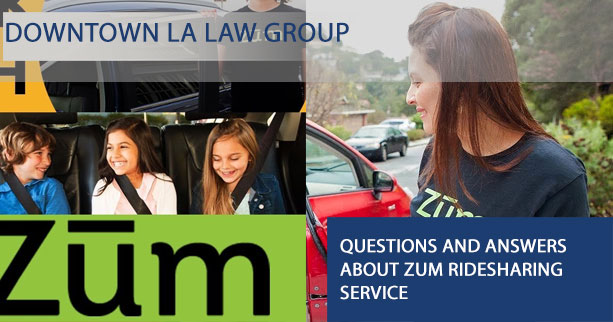 Parents sign up for the program on their phones and create profiles for them and their children. You can book rides for, designate pickup times, determine ride frequencies, and more. Zum needs the rides to be booked by 7 p.m. the day before in order to determine how many drivers must be sent out and who will be available. Once a driver has been assigned, the details will be provided to you. You will receive the driver's photo, car model, license plate number, and small biography. Zum will send a password to the driver and to the child to ensure that the child is leaving in the correct Zum car.
How Can I Trust My Zum Driver?
Zum makes each driver go through a rigorous screening process before being selected. It touts it strictness and says that only 1 out of every 5 applicants are hired to ensure the best, safest, most controlled quality. Zum issues distinct background checks through the DMV, DOJ, and FBI (Department of Motor Vehicles, Department of Justice and Federal Bureau of Investigation, respectively). It requires that all drivers be over the age of 21 years old and have 3 or more years' experience working in childcare. All drivers must have clean driving records form the past 3 years at a minimum. When being interviewed, drivers are met in person by Zum representatives and ridealongs are performed. Zum also checks the social security number, address history, and other points of contention with drivers. Additionally, all Zum vehicles must pass a 19-point inspection, have four doors, be a 2009 model or newer, have ongoing maintenance performed on them, and be in good working condition. All drivers must also possess valid insurance and driver's licenses. Finally, Zum drivers are held to an extremely high standard. As per the terms and conditions, "Zum Services, Inc. has a zero-tolerance policy for both drug and alcohol use while driving for Zum. Any driver found to be violating this zero-tolerance policy will have their Zum account suspended till further investigation. Zum also has a zero-tolerance policy related to any physical contact with riders, or the use of a mobile device for talking, texting or using phone while driving for Zum with a passenger in their car."
Our Recent Verdicts and Settlements
$1.5 Million
Auto Accident
$5.5 Million
Motorcycle Accident
$1 Million
Forklift Accident
$3 Million
Truck Accident
Can You Carpool With Zum?
In addition to the single-ride options, Zum does offer carpool options for riders. This is a cheaper option as it allows multiple children to be dropped off at the same or different locations on the way to the others.
Can I Ask Zum To Sign My Child Out Or Into An Event?
You can specifically request that a Zum driver sign your child out of school or signs him or her into an event. You will have to specify this in the app's options, as well as potentially notify the event coordinator or school that someone other than a guardian or parent is signing the child in or out.
How Much Do Zum Rides Cost?
n and carpool rides start at $8 (one way). The pricing of each ride will change depending on the distance traveled, location, time of day, and more. The longer a trek, the more expensive the trip.
What Else Can Zum Do?
Zum also provides childcare services before and after rides. They are provided in 15-minute increments and can be scheduled up to a maximum of 2 hours, or 8 blocks. The childcare services may include babysitting before or after the ride is completed or chaperoning the child at an event or on an errand. The cost of each 15-minute block is $6.
Find out more about how we can help you. Call (855) 339-8879 to speak with a representative now.
What Is The Zum Kids App?
The Zum kids app is the application that the kids can use to verify drivers, track locations, keep profiles updated, retain emergency contacts, provide feedback, and more. It is not required for the child to have the app installed in order to be driven around with Zum, though.
What Do I Do If I'm In An Accident With A Zum Driver?
If you are in an accident with a Zum driver or while driving for Zum, it is important that you do not panic and focus on the health of yourself and the safety of the child. Paramedics may be called or assistance and to treat any injuries at the scene. Severe injuries will likely result in a trip to the emergency room. The Zum app has an option to submit an accident report or incident report. You can provide the details of the accident and Zum will get back to you with a response.
What Are The Benefits Of Driving For Zum?
Zum states that its drivers earn anywhere between $16 and $35 per hour, and they can essentially alter their income based on the amount of hours they work. Drivers are not reimbursed for gas and phone usage, though, but can make extra money by opting into the childcare services.
How Much Insurance Coverage Is Provided By Zum?
Zum provides limited liability coverage for all individuals in the Zum vehicle and others who are injured in the event of fault. The coverage limit is $1,000,000. Zum's terms and conditions state the following: "Zum will provide limited liability insurance covering you and passengers during rides that are part of the Zumer Services. However, Zumers are otherwise responsible for insurance for the vehicles they use to provide the Zumer Services."
How Can I Sue Zum?
You can only sue Zu if you can show that the company was negligent in some way. If the business wrongfully hired a drive who had a poor driving record or a criminal history, the company could be held liable for his actions. You should make sure to keep all evidence handy when you intend to file a lawsuit against Zum.
What Can I Receive In A Zum Accident Lawsuit?
If you have been involved in an accident or incident with a Zum driver, you can receive various forms of compensation for your injuries. You may be able to have the medical expenses from the hospital visit reimbursed and future treatments covered; payment for lost wages from the past, as well as reimbursement of lost income from the future if you cannot attend work due to additional medical treatments or recovery time; payment for damaged or lost property; coverage for pain and suffering damages, or emotional traumas, anxiety, fear, PTSD, and more; and other types of restitution.
Learn more about your legal options: Call (855) 339-8879 to speak with a representative now.
How Much Is My Zum Accident Lawsuit Worth?
The value of your Zum accident lawsuit will be determined by the insurance agent responsible for handling your case. He will look at the extent of the injuries, the severity of the damages, how much of an impact everything had on your life and career, if other individuals (like children) were hurt in the crash, the level of responsibility you had in the incident, and more. Once he has come up with a conclusion, he will make an offer. It will be the job of our attorneys to negotiate a better deal for you and ensure that you are given the fairest settlement available.
How Long Do I Have To File A Lawsuit Against Zum?
If you wish to file a lawsuit against Zum, you only have 2 years from the date of the injury to do so. You will not be able to sue if the time limit expires. The statute of limitations is in place to ensure that claims are quickly filed and for both parties to have ample time to gather evidence. If you wait too long, evidence will become lost and corrupted, and you will have next to no basis for a claim.
The DTLA Law Group's Promise
The Downtown LA Law Group has been actively winning lawsuits against Zum since its inception. We have a team of expert attorneys who know rideshare law through and through, and we can easily win your case for you. We have recovered hundreds of millions of dollars in restitution for our clients. Our aggressive attorneys are known for relentlessly pursuing every penny you deserve, and we will not give up until we are satisfied with the results. Get in touch with our law firm today if you want to receive a free legal consultation to discuss your case. We will tell you everything you need to know about the legal process and how Zum can be held accountable for your damages. We will keep all of your details confidential. You can reach us 24 hours a day, 7 days a week. If you hire us, we will protect your finances with our zero fee guarantee. This states that you won't have to send a dollar of your own money on the case; we will cover the costs ourselves, and we only will get paid if we win. Zum's insurance will cover our legal fees. If we lose, we do not get paid, and you will be off the hook with our firm when it comes to expenses. Don't hesitate to call the Downtown LA Law Group for help suing Zum for injuries from an accident.
Over $500 Million Recovered
for Our Clients
YOU Deserve the Best




Free Case Review 24/7




You Don't Pay unless we win


Call 855.385.2529
---
By submitting this form, you agree to receive telephone calls and text messages at anytime, which include hours outside of business hours (8:00 am PST – 9:00 pm PST). This is so that we may reach you as soon as possible in order to consult on your potential case.
Featured Lawyers
By submitting this form, you agree to receive telephone calls and text messages at anytime, which include hours outside of business hours (8:00 am PST – 9:00 pm PST). This is so that we may reach you as soon as possible in order to consult on your potential case.