Russian Speaking Lawyer in Los Angeles
---
After an accident, it can be difficult to find legal assistance in your language. If you are in need of a Russian speaking lawyer in Los Angeles, specifically, in the West Hollywood area, look no further. Our accident lawyers are ready to provide you with the guidance that you need – in your language. Whether you are in need of a lawyer after a car accident, truck accident, motorcycle accident, slip and fall accident, you can trust that our Russian speaking lawyers are ready to help you.
Contact Downtown LA Law Group today to speak with our attorneys. Our lawyers have many years of experience handling all sorts of injury claims, always focused on fighting for the rights of our clients and getting them the highest recovery available. We want to help you win what you are owed.
$400,000,00 IN SETTLEMENTS AND VERDICTS FOR OUR CLIENTS
The Accidents that We Handle
Our lawyers handle a number of accident claims all with the goal of helping injured victims and their families recover the highest amount of compensation available for their claims. We handle the following types of claims:
Car accident claims
Truck accident claims
Motorcycle accident claims
Slip and fall accident claims
Brain injury claims
Unfortunately, these accidents can lead to a variety of injuries. Some common injuries associated with these accidents include some of the following: head injuries; skull fractures; facial fractures; neck injuries; back injuries; spinal cord injuries; hip injuries; knee injuries; dislocations; broken bones; sprains and strains; lacerations; severed limbs; impaling injuries; crushing injuries; burn injuries. One of the most devastating injuries are traumatic brain injuries; unfortunately, brain injury claims are among the most difficult to handle because the effects of brain injuries can vary significantly among affected parties. Our lawyers are not afraid of any sort of injury claim. They are more than ready to go above it all to fight for your rights and secure a fair settlement.
$1.96 Million
Pedestrian Accident
$825,000
Slip and Fall Injury
$500,000
Premises Liability
We Fight for Your Recovery
Based on the details surrounding your claim, you could be eligible to recover monetary compensation. The type and amount of compensation available for your claim will vary significantly based on the details surrounding the accident as well as the harm suffered. Some of the type of compensation that you could recover could include the following:
Medical costs
Lost wages
Pain and suffering
Loss of consortium
Funeral and burial costs
Property damage
Punitive damages
Legal fees
How much compensation could you recover? What type of compensation could you receive? For questions regarding the type and amount of compensation that you could be eligible to receive the potential value of your injury claim, do not hesitate to contact our experts immediately. Our lawyers are dedicated to getting you the highest amount of compensation available for your injury claim. You can trust that our injury lawyers will not rest until you recover the compensation that you are owed.
File Your Claim On Time
You could have the right to sue; however, you could lose your right to sue if you fail to take action within the appropriate length of time. This is because all injury claims are subject to a statute of limitations, which establishes the total time that claimants have to file a lawsuit. If you do not file your claim on time, you could lose your right to file a lawsuit.
How long do you have to file your injury claim? In California, injury claims are subject to a two-year statute of limitations. Therefore, victims and their families will only have two years to file their lawsuits. It is also possible for exceptions to the statute of limitations to apply, which could pause the applicable deadline. To ensure that you have a thorough understanding of the total length of time that you have to sue for your injury claim, do not hesitate to contact us immediately.
Meet Our Lawyers
Our Russian speaking lawyers are ready to provide you with the representation that you need completely in your language. You do not have to fear important information getting lost in translation – our Russian speaking lawyers are ready to help you.
Our Russian speaking lawyers include Igor Fradkin, Esq. and Nina Sargsyan, Esq.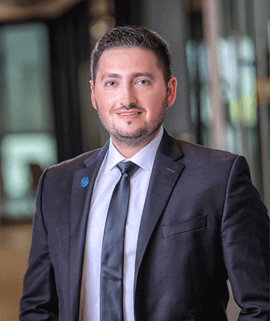 Igor Fradkin
is a litigation and trial attorney at the DTLA Law Group with extensive experience representing clients in personal injury and litigation; he has helped clients recover millions of dollars for their injuries. He practices in both state and federal courts. He has been selected as a 2018, 2019 and 2020 Southern California Rising Stars list, an honor reserved for those lawyers who exhibit excellence in practice. Only 2.5% of attorneys in Southern California receive this distinction. He has also been named as a top 40 under 40 National Trial Lawyer and top 40 under 40 best Lawyer for 2018 and 2019. Mr. Fradkin graduated from the University of California, Santa Barbara with degrees in Political Science and Russian before graduating cum laude from Western State College of Law where he finished near the top of his class while being the Business Editor and student writer of the Law Review. Mr. Fradkin has been admitted to practice law in California. He is a member of the Consumer Attorneys Association of Los Angeles. Prior to helping injured victims in personal injury cases, he spent a year at the Los Angeles District Attorney's Office as a certified law clerk handling over 20 preliminary hearings. Always moral but never shying away from fighting for his client's rights, his passion and drive to help clients make him an ideal attorney to have on your side. Mr. Fradkin continually demonstrates his commitment for victim's rights through the hundreds of hours of community service he gives back.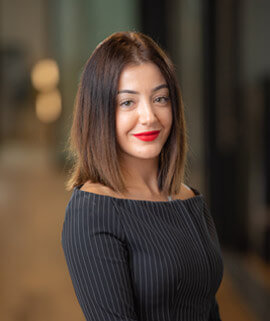 Nina Sargsyan
, before coming to the U.S., was a Deputy Judge in the Appellate Court of the Republic of Armenia. She moved to the U.S. and attended the University of Southern California, Gould School of Law. She ultimately received her Masters of Law. After completing law school, Ms. Sargsyan practiced immigration law successfully for over two years – representing hundreds of clients in federal courts all over the country. Today, she focuses her expertise in the following practice areas: complex personal injury litigation; wrongful death; government liability; premise liability. Over the years, she has helped her clients recover millions of dollars. In 2018, specifically, one of her clients obtained a seven-figure settlement (pedestrian accident). Nina Sargsyan is experienced in all matters of pre-litigation and litigation. She is ready to fight for your rights after your personal injury accident.
Contact Us Today
Downtown LA Law Group is a personal injury law firm with many years of experience handling all sorts of injury claims and fighting to help victims and their families to recover the compensation that they are owed after their accidents. Our lawyers have decades of experience, are knowledgeable, and are ready to help you win. At our firm, we understand the difficulties that victims and their families can face specifically in terms of finding legal assistance in their language, because of that, we are proud of our Russian speaking attorneys. If you are ready to discuss your claim with the experts at our firm, do not hesitate to contact us immediately.
We offer free legal services, which include free consultations and free second opinions. During these free legal services, our Russian speaking experts will answer your questions and address all of your concerns, ensuring that you have access to all the information that you need to start or continue your injury claim. If you would like to benefit from our free legal services, contact us today.
We offer a Zero-Fee guarantee, meaning that our clients never have to worry about paying upfront legal fees for any of our legal services. In addition, our firm works on a strict contingency structure; therefore, our clients will never be responsible for paying anything until after winning their claims.
Are you ready to speak with our Russian speaking lawyers in Los Angeles? If so, contact us immediately.