Arab (Arabic) Speaking Lawyers in Los Angeles
---
When Accidents Happen, You Need a Lawyer Who Speaks Arabic, Fast!
Accidents happen very quickly, and there is often no time to react to an emergency that will potentially affect you for the rest of your life. When you have been in a car accident, or a slip and fall accident at a store, you need to talk to an attorney who understands about these types of losses. You can give us a call for an Arabic speaking accident lawyer who will take on your case. We are able to let you talk to an accident attorney who speaks Arabic when you give us a call.
Slip and fall accidents often happen in an instant. You are walking and then somehow, your feet get swept out from under you when you slip and fall down. You can be either in a shop, in a store, or outside in front of a building or on the grounds of a business. You need to talk to an attorney who knows what to do in these types of cases.
Soft Tissue Injuries Can Be Serious After an Accident
When you have experienced an accident and have soft tissue injuries, you will still feel pain many days to weeks afterwards. These injuries seem minor on the day of the accident, but they can exacerbate weeks to months after a loss. If you have experienced these injuries, you need to give us a call:
Contusion or bruising of the arm or legs
Punctures of the skin
Crushing injuries
Burn injuries
Strains and sprains
Back injuries
Twists of the back
Joint pain
Tears in the muscles
If you have had this type of muscle or joint pain, your pain may not go away right away. You may need additional care from your healthcare provider to heal.
It can be confusing to know what to do next. That is why you need to call our law firm, to talk to an Arabic speaking car accident attorney. We will be able to advise you of your next steps to receiving the compensation you need, to recover from this type of case. Our car accident lawyer who speaks Arabic is ready to talk to you in Arabic, to set a plan for winning this case.
$599,000
Slip and fall Accident
$500,000
Premises Liability
$300,000
Premises Liability
Lawyer in Los Angeles Who Can Speak Arabic
If you have been in an accident of any kind that produces personal injuries, you need to give us a call. You will be directed to talk to our attorneys who know how to talk in Arabic. These legal experts will be able to talk to you about your personal injuries that may have affected your:
Head
Neck
Back
Legs
Arms
Teeth
Mouth
Feet
Knees
Hip
Elbow
Wrist
You may have sustained an injury on any part of your body. When this is the case, you will want to discuss your sensitive injury with an Arabic speaking injury lawyer. If you have been in a car crash, you need to talk to a car accident attorney who speaks Arabic. We are ready to discuss your case with you, and tell you the next steps that you need to take to start an action for recovery compensation for your losses.
We are here for you, and you are not alone in this claim. We know what to do to win against big insurance companies, and we are ready to represent you. You just need to make the call to us today. We will fight the big insurance companies and get you the money that you deserve in these types of claims.
Arabic Speaking Los Angeles Accident Attorney
If you live in Los Angeles, you need to talk to us about your accident today. We are able to advise you about what to do next, which will help you tremendously to recover from your accident and personal injuries. We are proud to be a part of the Arabic speaking community in Los Angeles, with Arabic speakers on our legal team. Just give us a call today, to talk with an Arab speaking lawyer right now.
Lawyer in Los Angeles Who Speaks Arabic
People who have been in a car accident are often still in a state of shock over the accident days to weeks later. If you have been in a car accident recently, then you will want to talk to us for an Arabic speaking car accident lawyer in Los Angeles.
Car accidents happen quite by force, when another car crashes into your vehicle. There are many reasons why another driver is reckless, careless or loses control of the vehicle. When this does occur, it will cause an accident. Car accidents can occur for many different reasons, and have many different factors that could apply, such as coming into contact with a driver who:
Is legally impaired by drugs or alcohol
Speeds recklessly through the streets
Did not read the stop signs or yield signs properly
Did not give a safe and clear distance in traffic between the cars
Drove too slowly on an adjacent lane
Passed unsafely on an adjacent lane
Had a tire blowout that caused an accident
Had a brake problem or malfunction
Had other car issues: steering, suspension, transmission, or engine-related problems that caused an accident
Traveled too fast in slippery road conditions
Traveled too fast in low light road conditions
In the event that you are on the roads with reckless drivers, there will eventually be an accident. If you are unfortunate enough to be involved in an accident with another driver, you need to call the accident lawyer in Los Angeles who speaks Arabic.
When you give us a call, you will be given the opportunity to work with an Arabic lawyer at our law firm. Our firm's Arabic attorneys are dynamic, savvy and interested in fighting the big insurance companies on your behalf. We know how to win against insurance companies, and you are at an advantage to work with us. We will review the next steps to take to receive your recovery compensation settlement package for your personal injuries, when you give us a call.
Meet Our Lawyers
Our Arabic speaking lawyers are ready to provide you with the representation that you need completely in your language. You do not have to fear important information getting lost in translation – our Arabic speaking lawyers are ready to help you.
Our Arabic speaking lawyers include John Rafael, Esq. Patrick Khalil, Esq. and Peter Hakim, Esq.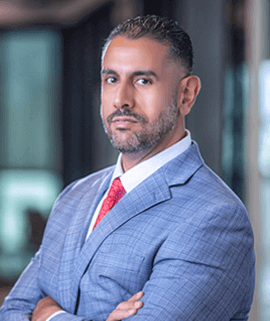 Attorney John Rafael
has been an advocate for the injured since his days in law school. While attending Western State University he knew he wanted to be a trial lawyer defending the rights of the people against Big Insurance. During his tenure in law school he worked for several prominent personal injury lawyers and attended trials in his limited free time.
To date Mr. Rofael has tried over 20 cases to verdict not including arbitrations and has recovered millions of dollars for his clients. His experience and relentless advocacy for his clients has not only garnished the respect of his piers but also the insurance lawyers.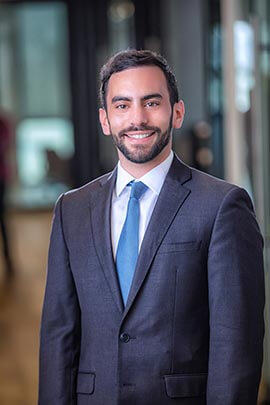 Patrick Khalil
focuses his time and efforts on defending the injured citizens of Los Angeles against the BIG GUY insurance carrier. With a passion and drive to defend those in need he strives to always go the extra mile to help his clients. In his short time of litigating, he has accomplished more for his clients than those practicing 10 plus years.
Mr. Khalil has earned a reputation for creating a personal bond with his clients. This bond helps him understand his clients' stories and how their injuries have impacted their lives. His passion to help those in need is unparalleled amongst his peers.
Mr. Khalil obtained his bachelor's degree from the University of California Berkeley where he majored in economics. He then went on to earn his J.D. from Loyola Law.
Free Second Opinions in Arabic
We are able to offer you a free second opinion in Arabic. When you give us a call, you will be able to speak to our Arabic speaking personal injury attorneys. We are able to offer you full legal services from a law firm specializing in Arabic language speaking attorneys. Your second opinion will give you peace of mind, as you will be able to have better expectations as to how your lawsuit and personal injury claim will go. We are here for you, and can offer you peace of mind as you recover from your personal injuries.
Car Accident Attorney That Speaks Arabic in Los Angeles, CA
If you have been in a car accident or any other type of accident and need help, we are here for you. Just give our law office a call. We speak Arabic and are able to offer full legal service in Arabic to you. We are here to offer you peace of mind after the confusion of a car accident or other accident. Call today, we are standing by to talk to you right now!