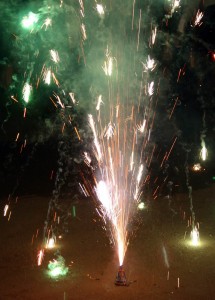 Fireworks are an expression of important celebratory events, the 4
th
of July holidays being a superlative example. Most, attendees of fireworks shows believe the display is devoid of dangers. However, in many instances fireworks displays pose a great harm leading to
serious bodily injuries
, burn injuries and fatalities. Every year close to 10,000 individuals are injured in firework accidents. If you have suffered burn injuries or any other injury as a result of a fireworks display explosion contact our Personal Injury Lawyers today. At Downtown LA Law our goal is to provide you with top
personal injury legal representation
for your loss.
Child and teenager fire work injuries on the Fourth of July
The fourth of July is known for fireworks, and fireworks lead to firework injuries. Close to 75% of all fireworks injuries take place during the months of June and July. Fireworks injuries are most prevalent in children under 15. These injuries are usually caused by amateurs, and are generally a result of:
Firecrackers (1600 instances)
Rockets (900 instances)
Sparklers (1100 instances)
However, firework may also be a result of poor management on the part of the controller, or negligence of the operator, or another person's careless behavior. They may be a result of a defective firework. Even if you have been acting carefully around fireworks, you may have suffered a serious injury due to defective fireworks.
Most common fireworks injuries:
More than half of all fireworks injuries are fireworks burns. The body parts that are most affected by fireworks accidents include, hands and fingers, legs, head and face, ears, nose, and legs.
Guests injured in a fireworks accidents in a Home – Private Residence Liability
Property owners owe a duty to protect their guests for all known hazards: Some important information regarding California Premises Liability Laws is as follows:
Invitee:
An invitee is owed the highest duty of care. They are any individual who is either expressly or impliedly invited to another person's premises for their mutual benefit.
Licensee:
Any individual who enters the premises at the owner or possessors consent for a non business or commercial purpose. The most common example is a social guest. In order to recover as a licensee, a victim must establish (all three):
The owner or possessor knew or should have known of the dangerous condition, and should have known that it created an unreasonable risk of harm, and likewise should have known that the plaintiff would fail to discover the dangerous condition
The owner or possessor did not make the condition safe or failed to warn the licensee of the condition
The licensee did not know of the dangerous condition or the risks involved.
Trespassers:
Unlike an invitee or licensee, a trespasser enters premises without the property owner or possessor's consent.
Fireworks Safety Information: How to Prevent Fireworks
Never use fireworks indoors
Never let Children handle fireworks
Never make and use homemade fireworks
Never drink alcohol while lighting fireworks
Make sure guests are a safe distance away from a fireworks display
Selecting the Right Legal Representation for you Fireworks Injuries
A
t Downtown LA LAW Group our aggressive and skilled Los Angeles based
California injury lawyers
will keep on the offensive so that you are fully compensated for your burn injuries. We will take care of every legal detail and we will go to trial and take on liable fireworks manufacturers, fireworks display companies and organizers, property owners, and their insurance carriers' so that your rights are protected.
OUR NO RECOVERY NO FEE AGREEMENT:
You WILL NOT Be Charged a penny UNTIL you receive compensation for your Injuries;
And we will work diligently so that we can maximize your settlement for the injuries you had to endure.