Driver Sought After Video Captures Violent Crash That Left BMW Stuck Under Semi on 10 FWY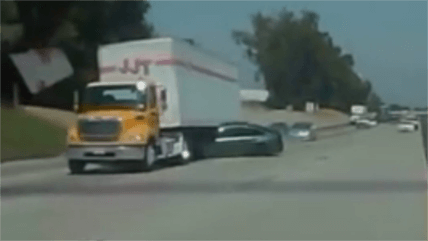 California Highway Patrol (CHP) officers are on the lookout for the driver of an Infiniti that was caught on video causing a dramatic car collision that resulted in a BMW being pinned under a big rig on the 10 Freeway in the Inland Empire earlier this week. According to a Facebook post from BMW passenger Alan Parcero, the crash occurred at about 3:00 p.m. Wednesday, blocking westbound traffic between Riverside and Pepper Avenue exits. BMW driver, Madis Tolentino told authorities that she had been driving home to Ontario when she encountered the Infiniti and another vehicle racing down the freeway. Dashcam footage confirms Tolentino's report, as the video captured the moment when Tolentino's BMW was side-swiped by the Infiniti. This incident caused the BMW to hit another sedan and veer into a big rig nearby. Tolentino's car ended up getting trapped beneath the big rig's trailer. At the same time, the Infiniti driver fled the scene. An eyewitness account confirmed this by Jose Rios who was driving on the freeway at the time of the incident. Rios stopped to call 911 after the crash and went to assist the driver of the BMW. Tolentino suffered minor injuries and said she is experiencing anxiety since the accident. CHP later confirmed on Friday that they discovered the Infiniti not long after the crash, although the driver was nowhere to be found.
About DTLA Law Firm
If you or a loved one has suffered any physical injuries or property damages as a result of the negligent or harmful conduct of others behind the wheel, you may be entitled to monetary compensation for all the damages that you have suffered. If you file a claim with DTLA Law Firm you could find some, if not all, of these following expenses compensable:
The costs of any medical care
Any future medical attention and treatment
A loss of income and loss of future earnings due to long term recovery or permanent disability due to the accident
Any loss of property or damaged property.
Any non-economic damages include emotional distress, trauma, PTSD resulting from the accident, pain and suffering and anxiety.
Victims of this incident or incidents like this one can contact our law offices to learn more about how to receive compensation for their injuries. Our team of attorneys is committed to ensuring every one of our clients has the resources to put up a fair fight for their case. As a show this commitment to you and your case we offer our clients the benefits of a zero fee guarantee policy. Under our zero fee policy, all clients don't pay for our services until their case is won. If you feel in need of a second opinion, second opinion case reviews are also free under this policy. Call now for a free consultation by one of our skilled attorneys, and we can discuss the incident, your damages, and the path to receiving proper compensation for your damages.