Van Strikes 7 Vehicles On PCH Then Falls Into Water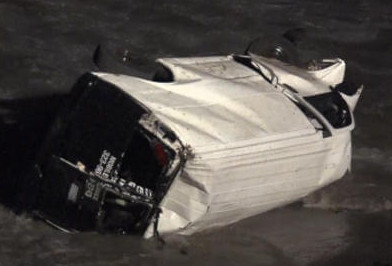 Our law firm is currently investigating lawsuits against defendants for an accident that happened 8-3-2017. At approximately 11: 15 P.M Thursday night the Los Angeles County Sheriff's Department received a report of a reckless driver striking park cars along the Pacific Coast Highway (PCH). The vehicle in question, a white van, collided with several moving vehicles close to Yerba Buena Road. Shortly after authorities arrived at the scene, the vehicle drove off the road and crashed onto the beach. The Ventura County Fire Department responded to the wrecked van and found it stuck in the surf and empty. The driver of the van was later found hiding among rocks on the beach and was apprehended by local police. Upon being taken into custody, authorities discovered that he had endured a major injury and was taken to a hospital in Ventura County. The identity of the driver is yet to be released. Later it was reported that one other person had sustained a minor injury, and five others were hospitalized due to minor-to-moderate injuries.
About DTLA Law Firm
If you or a loved one has suffered any physical injuries or property damages as a result of the negligent conduct of others behind the wheel, you may be entitled to monetary compensation for all the damages that you have suffered. If you file a claim with DTLA Law Firm you could find some, if not all, of these following expenses compensable:
The costs of any medical care
Any future medical care and treatment
A loss of income and loss of future earnings due to long term recovery or permanent disability due to the accident
Any loss of property or damaged property.
Any non-economic damages include emotional distress, trauma, PTSD resulting from the accident, pain and suffering and anxiety.
Victims of this incident or incidents like this one can contact our law offices to learn more about how to receive compensation for their injuries. Our team of attorneys is committed to ensuring every one of our clients has the resources to put up a fair fight for their case. As a show this commitment to you and your case we offer our clients the benefits of a zero fee guarantee policy. Under our zero fee policy, all clients don't pay for our services until their case is won. If you feel in need of a second opinion, second opinion case reviews are also free under this policy. Call now for a free consultation by one of our skilled attorneys, and we can discuss the incident, your damages, and the path to receiving proper compensation for your damages.