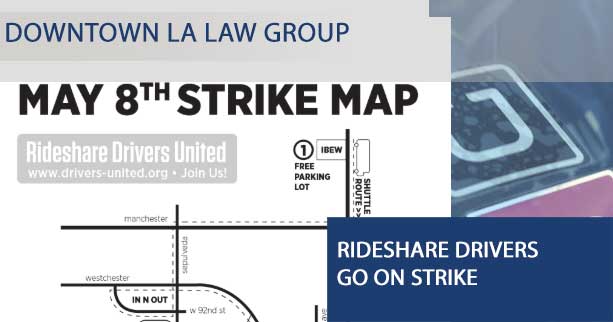 On Wednesday, May 8, 2019, rideshare drivers have
begun striking around the world
– including major cities in the U.S. The rideshare drivers are demanding l
ivable incomes, regulated fares, and job security, among other things
. Drivers are powering off their rideshare apps and holding rallies in strategic locations. Just a few months ago, in March of this year, rideshare drivers went on strike in response to pay cuts. The strikes in the Los Angeles area have been
organized by Rideshare Drivers United
. This group is making demands for transparent/speedy appealing process for deactivated drivers, an hourly minimum wage, a commission cap on earnings, and a driver representative on Uber and Lyft boards.
Learn more about your legal options: call (888) 649-7166 with a representative now.
– The Ultimate Guide to Uber Accidents
Why Uber and Lyft drivers are going on strike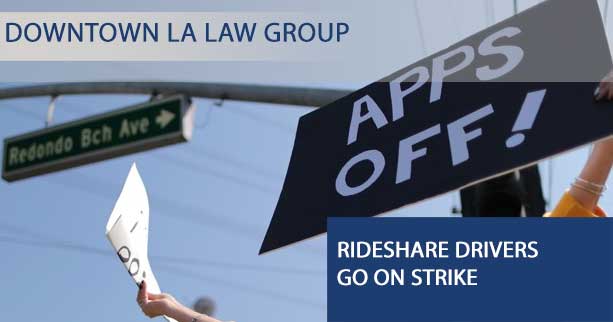 Rideshare Drivers United
published a
Drivers' Bill of Rights
that clearly outlines their demands. Their demands are separated into four categories, which include fair pay, TNC transparency, a voice on the job, and community standards. Besides the demands that were mentioned above, Rideshare Drivers United is also making the following demands:
Pay rideshare drivers per mile and minute rates when going to pick up the passenger.
Set hourly minimum wage before expenses
Set a surcharge in rideshare fare to include the price of gas
Allow drivers to access information relating to the estimated fare payment as well as trip destination prior to accepting and initiating the trip
Show full fare breakdown including information on Uber and Lyft's take on passengers' trip receipt
Recognition of the organization
The right to organize without any retaliation
Vehicle caps to address traffic and carbon emissions
Set emission standards for new vehicles added to the rideshare service
Share vehicle data with authorities for traffic management
Find out more about how we can help you. Call (888) 649-7166 to speak with a representative now.
Uber, Lyft strike: Drivers plan walkout to protest low pay
According to reports, the strikes were planned to occur before Uber – the leading rideshare company in the industry – went public. Making the company public would represent a significant monetary gain for executives, while drivers – the people that make the company successful – continue earning little to nothing. The strike calls for drivers
to log off their rideshare apps and be unavailable to accept rides
; the strike also calls for regular passengers to choose alternative methods of transportation instead of ordering Uber or Lyft rides.
– The Ultimate Guide to Uber Accidents
Although the strike is predominantly in response to Uber's actions, riders from many different rideshare platforms are coming together to make their voices heard.
We Support You
At
Downtown L.A. Law Group
, there have been many instances in which we have represented Uber drivers and the drivers of other rideshare companies. Through our time working alongside Uber drivers, we have developed a thorough understanding of the many difficulties that they face on a daily basis. We would like Uber drivers and all rideshare drivers to know that we stand with you. Your demands deserve to be taken seriously and met. Our entire team stands with you during your fight.
We support your strike!