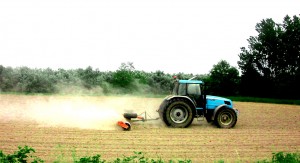 California is one of the largest farming centers in not only the United States, but around the world. In fact, California continually ranks as the number 1 state in terms of cash farms receipts, a total that surpassed $43.5 billion in 2011 alone. California alone accounts for 15 percent of the national crop revenue and 7 percent of the revenue for livestock and livestock products. However, the farming industry also happens to be one of the most dangerous industries in the US. Agriculture is the second most dangerous industry in the U.S., trailing only the mining industry with a death rate of 26.1 per every 100,000 employees, a total that reached 476 farmer deaths in 2010.
Defective Farm Products is a Leading Cause of Farmer Death and Injury
The leading cause of farmer death and injury are
defective
farming equipment. Indeed, a study by the Centers for Disease Control and Prevention (CDC) indicated that of the 9,479 farming deaths between 1992 and 2009, the leading cause of death was tractor overturn, causing roughly over 1,500 deaths in that period. Defective farm products were especially dire for youth farmers (under the age of 20) as 23 percent of their fatalities were attributed to machinery, and 19 percent to motor vehicles including ATV's. Tractor fatalities are especially grim as they account for 36% of farming deaths. Although overturns are the leading cause of death on farms (365 total between 2003-2007), other causes of tractor fatality were run-overs (243 deaths), vehicle collisions (48 deaths), and caught in equipment (37 deaths).
Other types of defective agricultural equipment include:
Combines & cultivators
Bulldozers
Augers
Balers
Grain carts
Rotary mowers
Pickup trucks
Straw shredders
Seed drills
Vacuum tankers

Planters
Plows
Hoes
Sprayers
Harvesters
Shredders
Potato planters
Subsoilers
Sulky plows
Separation systems

Air Seeders
Cattle farming equipment
Cotton strippers
Drum Mowers
Front-end Loaders
Log Splitters
Pump units
Tedders
Terragaters
Timber forwaders
Get started today by calling (888) 649-7166.
Farming Equipment Injuries
Proving that the machinery responsible for injuries or death is complicated. Many of these injuries are a result of faulty human involvement and human error. However, even when human error is prevalent, injuries can result from improperly designed or manufactured parts. Furthermore, farming machines and tools necessitate extreme maintenance, and even a slightest defect can result in significant injuries to the user.
The Ultimate Guide to Workplace Injuries
–
PTSD Claim Workplace Injury
–
Most Common Workplace Injuries
–
Workplace Slip and Fall Accident Attorney
–
Workplace Amputation Lawyer
–
Workplace Electrocution Injury Attorney
–
Workplace Hearing Loss Lawsuits
–
Workplace Bullying Attorney
–
Workplace Toxic Exposure Lawsuits
–
Punch Press Accident Attorney
–
Lower Back Injury Attorney
–
Scissor Lift Defect Accident Attorney
–
Herniated Disc injuries
Get started today by calling (888) 649-7166.
Farmers are often left exposed to dangerous machine parts such as crush points, pinch points, cutting edges and rotary drives that can lead to harmful situations. Additionally, loose clothing or belt straps can often get caught in farming machines that can lead to broken or crushed bones, lost limbs, or even death. Other injuries can result from
Chemical burning from leaking anhydrous tanks
Suffocation from inappropriate venting
Tractor overturns or tipping over
Farmers left exposed from improper, non-existent, or defective shields
Injuries from power take-off
Defective blade gaurds
Explosions or fire blasts
An attorney at Downtown L.A. Law Group understands the intricacies of these equipments. Our law firm works with a wide range of experts in both the farming and health industries which allows us to maximize the amount of money you can receive for your injuries. We also realize that not only is the manufacturer responsible, but also the distributors, retailers and even the farms themselves.
Defective Farming Equipment Attorneys
If you have been seriously hurt on a farm for any reason, a dedicated team of attorneys are available to answer your questions. We understand that the moments following an accidents are difficult. We make sure that you never have to pay to speak to an attorney, and every case is taken on a contingency fee basis.