Juul was created in 2015 and was initially marketed as a safer alternative to cigarettes. The company produces electronic cigarettes that are essentially small pods filled with liquid. The liquid is primarily nicotine and chemicals that are meant to simulate certain flavors. Juul deliberately states that its products are not meant to be consumed by minors, yet the social media marketing presence and presence in pop culture still drives underage individuals to smoke. Although the primary cause of injuries associated with Juul products are organ-related, there are other issues, such as explosions, that can harm users. No matter what kind of injury you suffer, you may be able to sue Juul for injuries relating to the e-cigarette or vape product. Our attorneys at the Downtown LA Law Group know how to file a claim to win you the compensation you deserve.
How Juul Works
Juul sells pods filled with nicotine salts and chemicals in mall pods. The containers are designed to resemble USCB sticks and charge in small docking stations. Each Juul contains about 5% nicotine, which is the equivalent of an entire pack of cigarettes. The pods each contain enough fluid for 100 inhalations or pulls. The battery-powered process allows the liquid concoction to be turned into vapor for ease of inhalation. The main draw of these products is the fact that there is no tar emitted, and thus, Juul products are viewed as better for the environment and for the consumer.
Health Risks Associated with Juul Products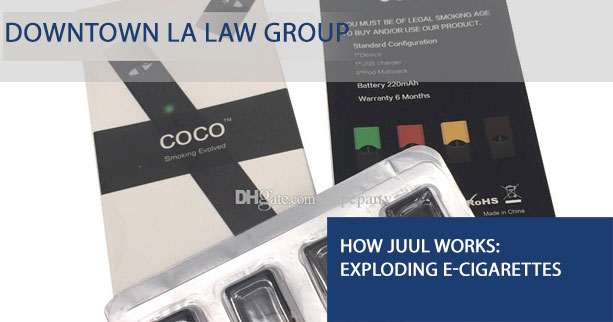 Although Juul has claimed that its e-cigarettes and vaping products are essentially safe alternatives to cigarettes, this is not necessarily true. There may not be any tar, but there is a lot of nicotine in one pod when relatively compared to other packs of cigarettes. Many of the same health risks are shared with Juul products as well, including:
Asthma
Heart issues
Cardiovascular disease
Blood clots
Sleep disturbance
Restriction of blood to the brain
Increased blood pressure
Suppression of the immune system
Inhalation of toxic or carcinogenic chemicals
Impairment of neurological development and progress
Lung spasms
Muscular pain
Cancer
Each Juul pod contains enough nicotine to be considered an addictive amount. Nicotine is perhaps the most addicting substance found in the world today, given that hundreds of millions of individuals smoke cigarettes.
Juul and Marketing
Juul initially claimed that its products were a safer alternative to cigarette smoking, which is not entirely untrue. The company wanted to ease the transition of individuals who wanted to move into a healthier sphere. Juul has stated that it did not claim that it wanted to create products or an identity that would support preventative measures. That is, it was not intended to be a temporary replacement product until the individual quits altogether. Juul's usage of young models, social media marketing, and sleek design reminiscent of Apple products has enticed many underage users to purchase Juul products and participate in vaping. Generally, the minimum age to purchase tobacco products across the country is 18 years old, but everywhere, teens are using the e-cigarettes. One of the main issues present with Juul's marketing and the usage by consumers is the lack of transparency. Initially, there was no mention of the product containing nicotine, and instead, many consumers merely through they were inhaling water vapor and a concentrate of the specific flavor. Much of the success is attributed to the flavors and total difference between vapor and cigarette smoke. E-cigarette flavors like mango and cucumber are very popular, and the vapor is generally not sticking or long-lasting – nor is it odorous. It can be concealed and easily blown away, which leads to a lot of users inhaling indoors. Juul was accused of deliberately marketing towards minors. It recently submitted documents to the FDA for an investigation, and in response to the accusations, altered some marketing techniques, such as changing names of its flavors, substituting models in commercials, and more. In all, a lot of the stigma surrounding cigarettes has been acknowledged, and as a result, youngsters have taken to vaping.
Exploding E-Cigarettes
Juul's pods are essentially nicotine and chemicals, and although they are battery powered and not ignited, the compression can still cause explosions. The same is true of the batteries; they are not properly circuited, which may cause them to catch fire inside the device before exploding. The injuries from exploding Juul products are varied. The products do not need to be in use to explode, either. This is why there have been a few instances of explosions that took place inside users' pockets, which caused burns to the skin on the legs. Juul products that have exploded during use have resulted in facial damages, mouth and teeth injuries, scarring, burns, blindness, tongue damage, arterial injuries, permanent nerve damage, and more.
When a San Diego-based mother posted an emergency alert on Nextdoor, a community discussion app, she hoped a Good Samaritan could help, according to court filings. Her son was hysterical after losing a flash drive with his homework near the local McDonald's, she wrote, uploading a photo along with the message. A neighbor quickly replied, explaining that the chewing-gum-sized object in the picture was not a flash drive: It was a Juul vaping device. – E-cigarette maker Juul targeted teens with false claims of safety
Filing a Lawsuit against Juul
The potential to file a lawsuit against Juul is very high depending on the circumstances of your claim. In most cases, basic usage of Juul that results in nicotine-related problems cannot result in a lawsuit because the individual was aware of what he was ingesting and knew the risks. However, if the company did not accurately market the product or provide any warnings on the label that the product contained nicotine, you could easily sue for injuries. Additionally, minors have been able to get representation from legal guardians in class action lawsuits against the company, citing the deceptive marketing and advertising as a reason for the addictions. They claimed to not have known that the product contained nicotine, and now struggle with the results of nicotine addiction; in some cases, even nicotine poisoning. If you wish to file a claim against Juul, you must be able to show that you were intentionally deceived by the company and that you suffered actual injuries. It may be difficult t prove that the injuries you suffered were a direct result of inhaling the vapor due to the fact that some of the injuries may have been present before you started using the product. This is especially true for former cigarette smokers or teenagers and minors who grew up in homes with smokers in the family. The most clear-cut lawsuit, though, would involve an exploding Juul product. You could file a product liability claim that would be based on the manufacturing error or design flaw with the product that caused it to explode. The injuries suffered in the accident would be very apparent and would not be a hindrance to your claim. If you wish to file a product liability claim, you should hold on to the product so that it can be used as evidence. You should also take photos of the damages done and keep copies of your receipt and credit card statements showing the purchase of the item. If you can get any other evidence from bystanders who saw the e-cigarette explode, that would also come in handy. No matter whether you wish to file a class-action lawsuit with other minors or if you wish to sue Juul for an exploding e-cigarette, you should reach out to a lawyer with experience in the realm. Al too often, victims will try to pursue claims by themselves when they do not have any negotiating or legal experience at all. This is generally a bad idea, as the insurance agent will almost always simply throw your claim out with no real consideration for it since you do not pose a viable threat. With the representation of a skilled lawyer, though, you will have a much higher chance of success with your lawsuit.
Juul Lawsuit Compensation
If you wish to file a personal injury or product liability claim with Juul, you could receive various types of compensation. You may also be able to file a different lawsuit based on false advertising and such. The damages you could earn include the following:
Medical bills form the past and future
Lost income from any time you could not go to work because of your injuries, whether past or future
Property damage, such as replacing the cost of the Juul product if it exploded or was defective, or if it damaged other items because of the fire
Pain and suffering for emotional trauma, psychological anguish, PTSD, fear, anxiety, and more
Punitive damages in the event the company was deliberately negligent and did not take any care to protect its consumers, but these damages are very difficult to win due to being viewed as excessive or harsh
You should not be expected to pay for the damages resulting from a Juul accident or addiction I you were not directly responsible for it. Our attorneys will do all we can to win your case for you, and we won't stop until we are satisfied with the result.
Contact Us Today
Get in touch with the Downtown LA Law Group if you wish to file a Juul e-cigarette lawsuit today. We will do all we can to win your claim and will aggressively hunt for your fair and rightful restitution. Our attorneys will go to court if necessary and always place your safety and care first on our list of priorities. Call (888) 649-7166 for a free legal consultation to discuss your case and what you could expect out of the legal process. We will tell you what we believe your case is worth and you can ask us whatever questions you wish. If you hire us we'll give you our zero fee guarantee, which promises that you won't spend a dime of out of pocket expenses for the case. We'll cover all the costs ourselves and will only get paid if we win; if we lose, we take no money at all from you or any other party. Let our Juul e-cigarette lawsuit attorneys file your claim for you.