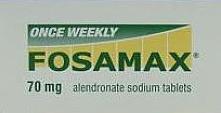 Fosamax® is a prescription drug mostly taken by woman, but sometimes by men to treat or avert bone loss (osteoporosis) caused by menopause or from the use of corticosteroids.  It can also be used to treat Paget's disease of bone in both men and woman (disease where bones are soft or weak and are often times deformed). Fosamax® (alendronate) is part of a class of medications known as bisphosphonates and is intended to slow bone loss by increasing the bones thickness and decreasing the rate of bone breakdown. Established in 1995 by Merck, Fosamax® quickly began garnering criticism as several serious side effects began to surface.  The drug comes in both pill and liquid form, and can be taken anywhere from once a week to daily depending on the condition. The defective drug attorneys at Downtown L.A. Law Group are a dedicated team of professionals that will review your case for free.
Fosamax® Side Effects
Osteonecrosis of the Jaw
Fosamax® has been linked to a brutal bone disease that causes a jaw disorder known as osteonecrosis of the jaw (ONJ), often referred to as Dead Jaw Syndrome.  Osteonecrosis of the jaw is a serious disorder that causes severe pain, swelling, infection and exposure of the jaw bone.  It is defined as an exposed bone in the mouth that does not heal after remedy of over 6 to 8 weeks.  Although Merck claims that the presence of Osteonecrosis among Fosamax® users is "negligible," many dental professionals are acknowledging that it is a recurring problem among users of the drug.
Symptoms of ONJ are:
Gum infections
Jaw discomfort and pain
Jaw numbness
Falling or loosened teeth
 Fosamax® Femur Fractures
The FDA has included a warning label on bisphosphonate drugs such as Fosamax® indicating the risk a bone breaks or stress fractures to the thigh.  These fractures develope as a result of a reduction of any tissue continuity within the bone.  Therefore, even "low energy" or mild trauma will result in serious injuries to the bone. Consequently, users are experiencing leg fractures from unusual circumstances, such as climbing stairs, or even walking even though the femur bone is one of the sturdiest and biggest bones in the body.  They are known to be both unprompted and out of the ordinary.
Gastrointestinal Problems Associated with Fosamax®
Individual use of Fosamax® has been associated with many gastrointestinal tract abnormalities such as:
Nausea
Abdominal cramping
Flatulence
Diarrhea
Constipation
Esophageal problems including esophagitis, esophageal ulcers and esophageal erosions.  Recently it has been linked to esophageal cancer
Fosamax® FDA Recalls and Warnings
Almost immediately after Fosamax® was introduced into the market, the FDA began criticism of the product.  Only a year after being placed on the market, the FDA sent Merck a warning letter indicating that they were overstating the benefits of the drug while failing to account for the risks in their marketing materials.  In 2004, FDA research concluded that long-term use of Fosamax® is directly related to osteonecrosis of the jaw.  In 2008, the FDA issued a warning that bisphosphonate drugs such as Fosamax® cause sever bone, muscle and joint pain. On October 13, 2010, the FDA required that Fosamax® contain a black box warning that use of the medication, even as prescribed may lead to femur breakage.  Only a year later, another warning was added to indicate that the duration of the efficacy of Fosamax® is undetermined.
Fosamax® Lawsuits and Claims
In light of the FDA's research, as well as some severe complications associated with Fosamax®, several civil trials have commenced against its parent company, Merck & Co.  Although Merck has been forced to somewhat recognize their fault, they still vigorously maintain their innocence in trials.  In 2004, thousands of clients filed a multidistrict litigation (MDL) lawsuit against Merck in New York and New Jersey.  A MDL is a federal procedure of combining complex civil cases with similar fact patterns. Downtown L.A. Law Group will fight Merck & Company for your Fosamax® claim.  We urge you that no matter where you turn for representation, that you avoid any form of communication with Merck, its representative or any party affiliated with the drug.  We offer victims of Fosamax® a free 60-minute consultation to discuss their case, fears and concerns.  Please call us today if you have been effected at (888) 649-7166.
| | |
| --- | --- |
| Drug Name: | Fosamax® |
| Generic Name: | Sodium Alenronate |
| Manufacturer: | Merck & Company |
| Status: | Prescription |
| Uses: | Osteoporosis, Bone Loss, Paget's Disease |
| Side Effects: | Osteonecrosis, Femur Fractures, Esophegeal Disorders, Bone Pain |
Additional Resources: New England Journal of Medicine report of Fosomax  October 2010 FDA Letter to Merck | Safety Labeling Change