Zum is a company that transports children from one location to another. They are essentially providing the services that Uber provides, but to those who are underage. Uber and Lyft cannot legally transport children, so Zum fills that industry gap. The risks of Zum, though, are equally as, if not more, dangerous than those with Uber. This is because Zum drivers are constantly in the presence of children, and the accidents that can happen can be much more devastating, relatively. If you are injured in a rideshare accident with a Zum vehicle, you can take legal action against the responsible party, whether that is another driver or the company itself. Our team of expert attorneys at the Downtown LA Law Group has the ability to win your case for you.
Zum – What is it?
Zum is a rideshare service for children. It allows parents to schedule rides for kids under the age of 18 years old so that they can be transported to various places, such as to school or to sports practices. It prides itself on prioritizing safety and emphasizing quality of drivers over quantity.
provide booster seats, and more. Their kids can also install the Zum kids app that allows them to get updates and receive the password that they can use to ensure they enter the correct vehicle.
How does Zum work?
Zum works by having parents book rides for their children. They can book single rides that include just one driver and one passenger, or they can book carpool rides that allow numerous kids to be in the car at once. Carpools are cheaper options than single rides, starting at $8 per child, one way. Single rides have a starting rate of $16 and will cost more depending on the location, distance and duration of trip, time of day, and more. Parents can even set up recurring rides for their children so they always have something booked after school or for a return trip from practice. Zum also provides childcare services in addition to rides. The childcare services can be in-home or out-of-home and cost an extra $6 per 15-minute block, with a maximum of 2 hours of allotted childcare time available. Some parents may request that the student be babysat after school or that the driver supervise the child until a coach arrives.
Is Zum safe?
Zum prides itself on its safety. The company personally meets with and vets every applicant and claims to only hire 1 out of every 5 due to the demand and the need for excellent quality. A ride-along is conducted during the vetting process, and the company will check sex offender records, SSN numbers, and more. It requires all of its drivers to fit the following criteria:
Must be 21 years old or older
Must have 3 years or more of childcare experience
Must have a clean driving record from at least the past 3 years
Must pass multiple background checks from the FBI, DOJ, and DMV
Must drive a 2009 or newer sedan with proof of insurance, ongoing maintenance, and pass a 19-point inspection
Zum is no more equally as safe or equally as dangerous as other Rideshare apps. Accidents still happen at the same intervals, albeit for different reasons.
What Are Causes of Zum Accidents?
Zum accidents can happen for the same reasons as normal car crashes. That is, Zum drivers may behave recklessly or carelessly and not pay attention to the safety of the child in the car with them. Some of the common causes of Zum accidents include:
Running red lights
Speeding
Drug and alcohol use
Turning without signaling
Texting while driving
Tired driving
Turning left in front of traffic
Tailgating
Vehicle defects
The cause of an accident will greatly impact who you can sue for a Zum case. In addition to car accidents, you can also sue a Zum driver if your child were assaulted or hurt in some way, or put into a dangerous situation. Zum lists these activities as being breaches of contract:
Using the phone while driving
Getting serious traffic citations
Physical contact with the children
Failing to use the tracking system
Failing to drive the child directly to the intended location without any stops
Bringing additional children or adults on the ride
Leaving a child unattended at the end location
Not picking a child up at the point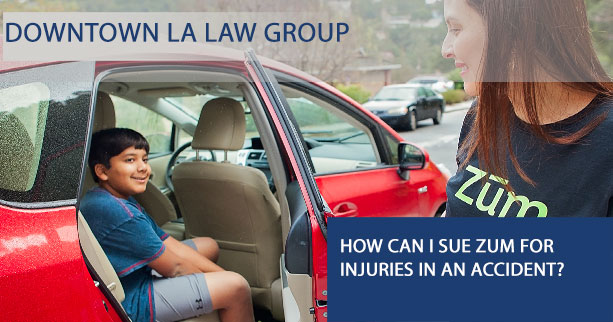 Many of these actions are grounds to be suspended by Zum. The terms and conditions specifically say "Zum Services, Inc. has a zero-tolerance policy for both drug and alcohol use while driving for Zum. Any driver found to be violating this zero-tolerance policy will have their Zum account suspended till further investigation. Zum also has a zero-tolerance policy related to any physical contact with riders, or the use of a mobile device for talking, texting or using phone while driving for Zum with a passenger in their car."
Does Zum Provide Insurance?
Zum provides insurance coverage for its drivers, as per the agreement. "Zum will provide limited liability insurance covering you and passengers during rides that are part of the Zumer Services. However, Zumers are otherwise responsible for insurance for the vehicles they use to provide the Zumer Services." The insurance coverage protects individuals from injuries and has a policy limit of $1,000,000. Vehicular damage is covered by the drivers themselves. Zum must provide coverage because personal auto insurance policies do not go into effect when there is commercial driving occurring. Therefore, if you are involved in a Zum accident, you could potentially take action against Zum's insurance company to get fully paid out for your damages.
Who Can I Sue If I'm Injured In A Rideshare Accident?
If you are injured in a rideshare accident with Zum, you could sue a number of people depending on the circumstances. If you were driving your vehicle when a Zum car hit you, you could sue the company for damages. You may be able to sue if the Zum driver also should not have been behind the wheel; he may have a forged document, been drinking, or otherwise not been eligible to drive, only for him to do so anyway. The company would therefore be responsible for his actions. If you were hurt in an accident while driving for Zum, you could sue the opposing car owner if he were responsible for the incident. You could also sue Zum if his insurance coverage won't pay of your expenses, or even if the other driver fled the scene. Further, if a Zum driver placed your child in danger or hurt him in any way, you could sue the driver and the company for failing to provide a safe environment for your child.
How Can I Sue Zum For Injuries In An Accident?
To sue Zum for injuries suffered in an accident, you must have ample evidence of the incident. This means that you should follow a set procedure to guarantee your health is not compromised and that your proof is collected and retained. You can o the following to prepare for your lawsuit:
Go to the hospital for treatment
Keep medical notes and receipts
Photograph your injuries and the damage done to your vehicle
Take pictures of the scene of the accident
Screenshot the app and trip details
Print out any pay statements or contracts showing you were a Zum driver and got paid
Interview eyewitnesses, bystanders, and passengers for their statements and testimonies on what happened
Keep a copy of the police report if the cops showed up to investigate
Contact a skilled attorney with experience in Zum lawsuits to handle your case
You should refrain from trying to handle a Zum accident case by yourself. The opposing insurance agent can quickly throw out your claim if you do not have your proof in correct order or if you are unable to negotiate a deal. Our attorneys are certain to be a great upgrade and will immediately start fighting for what you deserve.
What Can I Receive In A Lawsuit Against Zum?
Victims of Zum accidents can receive ample compensation for their damages. We aim to provide you with the maximum settlement available under the law and will not stop pursuing it until we are satisfied with your restitution. We will strive to win you the following:
Medical expenses from the past and future for surgery, hospitalization, physical therapy, medication, and more
Lost income from the past and future if you could not go to work because of your injuries, recovery items, or additional medical procedures
Property damage to cover the broken items, lost possessions, or vehicular damage
Pain and suffering for anxiety, fear, PTS, emotional trauma, and other psychological injuries that resulted from the accident
Our Firm and Your Case
The Downtown LA Law Group is willing to fight for your rights and will go to all ends to win your case. We are a talented group of attorneys with decades of combined experience. We know the best tactics to success and will treat you like family. You do not have to worry about your case – we will do everything in our power to win. Our attorneys are aggressive and willing to take your case before a judge and jury to win. Call (888) 649-7166 for a free legal consultation to discuss your case and its potential value. You can ask us anything you wish and we'll give you the answers you need, as well as tell you more about the legal process. You can also learn more about our zero fee guarantee, which prevents you from having to spend any money on the case. We will cover the costs of the claim and we won't get paid unless and until we win, with the money coming out of the insurance settlement. If we lose, we take nothing at all, and you can walk away debt-free to our firm. Let our Zum accident lawyers at the Downtown LA Law Group help you receive compensation for your damages.